September 21, 2018 - 3:45pm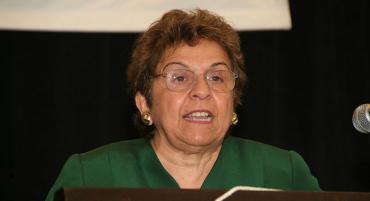 Donna Shalala
Interest and concern has surprisingly welled up in a Miami area region where longtime Clinton cabinet member Donna Shalala once was thought secure in flipping a red U.S. House seat. But Latin newscaster Maria Elvira Salazar has been remarkably efficient in using her name strength in Congressional District 27 to her advantage, and has turned this into a competitive race.
Looking over the national map, as both parties are doing leading to November, the color codings of projections mean everything. Whether it is a seat (for the Senate) or the jigsaw of districts (House seats), the positions held by party are noted in red or blue, with purple targets indicating areas considered in play. The latter should really be tinted green, since that is where national money will be flowing to gain or hold valuable seats.
CD 27 has become surprisingly violet in recent weeks. Shalala, a former secretary of Health and Human Services, had been considered a shoo-in to take the seat being vacated by longtime GOP fixture Ileana Ros-Lehtinen, who is retiring after 29 years. Now national Democratic Party leaders must be looking south with concern.
For Democrats, this had initially been a hopeful district to measure at the start of the year. Then a pair of late arrivals made things murkier as the year moved forward. It was only Republican Ros-Lehtinen's popularity over a several-year period that kept a GOP grip on the 27th District.  Hillary Clinton took the district in an almost 20 percent walkover-margin in 2016 -- though Marco Rubio held it in his Senate re-election.)
A strong field of Democrats stepped up, but Shalala, former president of the University of Miami and member of the Bill Clinton administration, tested the waters. Initial polls placed her as the clear favorite, and her announcement to run meant money rushed in. But, while popular, her momentum seemed to stall. She held comfortable double-digit leads in the polls leading to the primary, but then she ended up winning with a much narrower 4 percent victory than most political observers imagined.
Meanwhile, the GOP offered up a wide field of relative unknowns, until the Spanish-language newswoman Salazar joined the race and upended things. In a crowded nine-member race, she cruised to victory by 15 points, taking 40 percent of the votes. As a result, the House seat thought this Spring to be firmly in Democratic hands has become very much in question. 
POLITICO Florida has obtained the internal polling from both campaigns and, while certainly favoring each other independently, they manage to reveal how unresolved this district actually appears. Some of the internal numbers may show that the challenge rests with Shalala.
The Salazar poll has the Republican ahead by nine points, Shalala's poll, meanwhile, has her ahead of Salazar by 4 percent. Where it gets interesting is in the split revealed by demographics. In the district, Shalala enjoys a cushion with Anglos, 55-27 percent, while Salazar holds near the same spread among Latinos, 55-35 percent. The difference is, the district is heavily Latino, with 57 percent of the registered voters being Hispanic. Salazar also has an edge beyond her name advantage -- she can campaign comfortably in the area to most audiences because she is bi-lingual; Shalala is not.
Another indicator of trouble for Shalala is, there is a third-party, Independent candidate, Mayra Joli, and she could impact things as well. While currently only drawing 8 percent interest in the polling, there is a marked split in her support. She only has interest from 5 percent of Hispanics, but 13 percent of Anglos, indicating she might chip further away at the Shalala base. Independents are split evenly between the leaders, so Joli could be an outlying influence.
Working in Shalala's favor is that she has a near 3-1 advantage in campaign funds, something she obviously needs. To make up that difference, Salazar must continue to leverage her built-in recognition. What will be of interest is how the national parties will be reacting, both in CD 27 and in Florida in general.
While talk of a promised "blue wave" is all the rage, here in the political bellwether state, signs of that inevitable surge are harder to come by. In the 26th District Carlos Curbelo has a sizable lead. Bill Nelson is looking precarious in his bid to retain his Senate position. Andrew Gillum, while leading in most polls, is still within the margin of error.
Now this once-assured seat for the House is in serious jeopardy.
If there is the need to bolster Shalala's stature in the Miami area election it could mean money earmarked for other candidates will need to be used. The more mauve the District becomes the more money that will be needed. 
Brad Slager, a Fort Lauderdale freelance writer, wrote this story exclusively for Sunshine State News. He writes on politics and the entertainment industry and his stories appear in such publications as RedState and The Federalist.