January 24, 2018 - 6:00am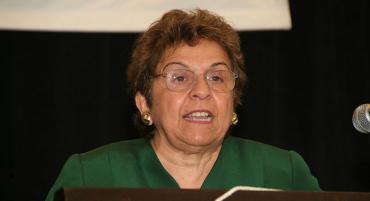 Donna Shalala
South Florida politics were jolted on Tuesday after reports emerged that Donna Shalala, the former secretary of Health and Human Services in Bill Clinton's Cabinet who also led the University of Miami, might run for Congress. 
Politico and the Miami Herald reported that Shalala is a possible candidate for the seat currently held by retiring Republican Congresswoman Ileana Ros-Lehtinen. With Ros-Lehtinen bowing out, this is considered by most political observers to be a prime opportunity for Democrats to flip a seat currently held by a Republican. 
Now 76, Shalala has been a leading figure in higher education and politics for more than three and a half decades. She led Hunter College in New York City during the 1980s before moving on to serve as chancellor of the University of Wisconsin and to lead the Children's Defense Fund. Clinton chose her to serve at HHS during his two terms as president. In 2001, Shalala was named president of the University of Miami, a post she held in 2015. Since then, she has led the Clinton Foundation. 
If she enters the race, Shalala would join a crowded field of Democrats looking to flip the seat. The current field of Democrats running for the seat include former Judge Mary Barzee Flores, state Rep. David Richardson, state Sen. Jose Javier Rodriguez, Miami Beach City Commissioner Kristen Rosen Gonzalez and Miami City Commissioner Ken Russell. 
If Shalala enters the race, there could be a domino effect as some of the current field could turn their attention to other congressional seats in South Florida, namely the ones currently held by Republicans Carlos Curbelo and Mario Diaz-Balart. That was a point Eric Jotkoff, a former spokesman for the Florida Democratic Party, brought up to Politico. 
"Donna Shalala is somebody who's a civic and community leader in Miami-Dade and but she's also a national leader on issues from healthcare to education and so much more," Jotkoff told Politico. "Democrats would be wise to make sure we have Democrats running not just for Ileana Ros-Lehtinen's seat, but against Carlos Curbelo and Mario Diaz-Balart." 
While his district is considered a toss-up, Curbelo hasn't drawn an impressive array of opponents so far. As of now, Debbie Mucarsel-Powell, who lost to Republican state Sen. Anitere Flores by 8.5 percent in 2016, is the favorite for the Democratic nomination to challenge Curbelo. Diaz-Balart seems even more secure with his only opponent being Democrat Alina Valdes who he blew out by more than 20 percent back in 2016. It's certainly possible that some of the current Democrats looking to flip Ros-Lehtinen's seat could scurry off to other districts if Shalala decides to run. 
There are some familiar names on the Republican side looking to defend Ros-Lehtinen's seat including  Bruno Barreiro who served in the state House and on the Miami-Dade County Commission and Bettina Rodriguez-Aguilera who served on the Doral City Council. However, there have also been reports that the GOP is willing to concede the seat and focus on other districts as it looks to keep its majority in the House. 
If Shalala runs for Ros-Lehtinen's seat--and that's still an if--the impact could be felt outside the district. Shalala would also be far more prominent than your usual congressional freshman, even if Democrats run the table and flip the House in November. With a competitive  Senate race shaping up between Bill Nelson and Rick Scott and an open gubernatorial contest, Florida will, once again, be one of the nation's chief political battlegrounds this year. Shalala running will certainly add to the drama.