Liz Mair and Make America Awesome, the anti-Trump SuperPAC among the GOP faithful, penned this note Wednesday morning about the 2016 presidential race, addressing the movement's tens of thousands of supporters:
Toto, I have a feeling we're not in Kansas anymore. Or Ohio. Or Colorado. Or any of the other number of states that have rejected Donald Trump.
We're in 2016, what looks likely to be the most disappointing, insane presidential contest in my lifetime.
As you start your day today, undoubtedly, you're going to be feeling a mixture of emotions: Shock, depression, anger, frustration and worry. ...
As you know, for months now, we have done our utmost to stop Donald Trump while the vast majority of GOP forces claiming to be terrified of him and staunchly opposed to him have sat on the sidelines, paralyzed with fear and incapable or unwilling to engage in any meaningful way to prevent his march towards the GOP nomination.
Thank you for not being one of those people -- even though it now looks overwhelmingly likely that the combined efforts of the #nevertrump movement will have failed.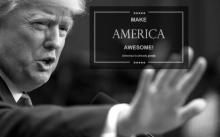 Hopes now rest initially with John Kasich, of all people, and secondarily with GOP delegates -- who admittedly have only about 3,000 reasons not to make Donald Trump the Republican nominee, no matter how many of them are technically committed to voting for him on the first ballot, and no matter how much bribing and threatening he will do (and of course, that process is already well under way). We'll be hoping and praying here, and I imagine you'll be doing the same, despite the odds.
In the next 24 hours, I will be sending you a survey to get a better read on what our supporters and donors would like us to do from here. Some options may include:
-- Spending to engage individual delegates directly to urge them, if there is any opening for them to do so, to dump Trump and save the country from two terrible outcomes: Either a Trump or a Clinton presidency;
-- Shifting the focus of the PAC to bolstering candidates that we know will act as a block on any executive overreach -- particularly, but not exclusively, in the realm of civil liberties -- that Clinton or Trump might (or should I say "will") seek to engage in if elected;
-- Assisting in efforts to run (an) independent conservative candidate(s) in as many states as possible, to give voters an alternative to the really genuinely terrible options that now appear almost certain to be facing them; and/or
-- Simply standing down and calling it a day (which I'm guessing few of you will support -- still, it remains a theoretical option).
Personally, despite the very urgent, crisis-like situation now facing America with regard to our politics, I think taking a little breathing room will be a worthwhile endeavor. 
As for the Make America Awesome team ourselves, we can all safely say that we will not vote for Donald Trump in the general election (assuming that the party doesn't break the glass and take emergency action to stop him being nominated). But beyond that, a bit of contemplation is, I think, needed.
Again, thank you SO MUCH for all of your support -- financial, moral, emotional and otherwise -- over the past few months. You are literally the primary reason that Trump did not waltz to the nomination months ago; and if delegates ultimately do not nominate him, you will have been a primary factor in that outcome as well, regardless of what Make America Awesome specifically does from here on out.
PS: One thing we should all remember to do, regardless of what this superPAC does in terms of fundraising and paid efforts going forward, is contact any and all friends, family or colleagues in states that have yet to vote/caucus and tell them that painful though they may find it and seemingly pointless as it may appear, they need to show up on the day and support John Kasich. 
Anyone who's followed my public commentary knows that I have some significant policy differences with Kasich. But unlike Donald Trump, he is actually capable of doing the job of commander-in-chief, and appears to be a sane and vaguely rational human being with some comprehension of separation of powers and basic civil liberties, who has not been endorsed by Vladimir Putin. In addition, if he sticks around, at least people showing up at his events will get free hugs, instead of sucker punches and/or a festering mob mentality, and that has to be worth something in this environment.
If Kasich can pull out some wins or decent performances, it may yet stop Trump from amassing the delegates he needs to win on the first ballot at the convention. And heck, what is there to lose at this point?
Tell your friends, your family, and your colleagues. Until the delegates take a hard and fast decision, little things may still cumulatively count for something.
Liz Mair is a communications expert, new media adviser, political consultant and blogger. She currently is strategist for Make America Awesome, a SuperPAC dedicated to blocking and reversing Donald Trump's political ascent.