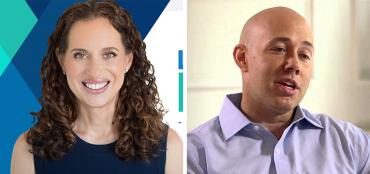 Lauren Baer and Brian Mast
Freshman U.S. Rep. Brian Mast has drawn a new Democratic challenger for 2018. South Florida attorney and Democrat Lauren Baer announced she would jump in the race against Mast, an Afghanistan Army veteran, this week.
Baer has deep roots in the Democratic Party and extensive connections with some of the country's top Democrats in recent years. 
She served in the Obama administration as a senior policy advisor to former U.S. Secretaries of State Hillary Clinton and John Kerry.
Baer also worked as a senior policy advisor to former U.S. ambassador Samantha Power when President Barack Obama was in office. 
Baer said Tuesday that her candidacy would focus on job creation and economic policies friendly to the middle class as well as other key local issues like protecting the environment and the Florida coastline.
"The issues affecting the people of Palm Beach County and the Treasure Coast could not be more important, and they deserve a representative who will work across the aisle to make government work for them," Baer said. 
 
If she won, Baer would be the first female U.S. House representative to be in a same-sex marriage. 
 
Baer will compete in the Democratic primary against U.S. Navy veteran and former unsuccessful U.S. Senate candidate Pam Keith, who declared she, too, would be running for the seat in July.
 
Keith had an unusual candidacy from the beginning, declaring and publicizing her run for Congress before technically filing her paperwork.
 
Former U.S. Rep. Patrick Murphy said he believed Baer had the secret recipe to mobilize Democrats in what will likely be one of the most competitive -- and most expensive -- races in 2018.
"A lot of Democrats will be excited to see Lauren in this race," Murphy said. "She has impressive foreign policy credentials and deep ties to the district."
Murphy also took a shot at Keith, who he said focuses too much on negative politicking -- something Murphy believes Democrats want less of.
"Pam Keith has turned off a lot of people with her negative approach to politics," said Murphy.
Recruiting Democratic candidates to run against Mast, a retired Army veteran, has been somewhat of a difficult process for the party. 
Palm Beach State Attorney Dave Aronberg was rumored to be considering a bid against Mast, but ultimately told the Palm Beach Post he had no intentions of running for any office next year.
"I'm focused on the opioid epidemic and a number of important issues as State Attorney," Aronberg said.
Mast has made headlines as a freshman representative, pushing for local water restoration efforts while raising lots of cash for his reelection bid. 
Mast led the pack in fundraising efforts over the summer, bringing in a haul of $1.2 million for his campaign war chest.
The race for Florida's 18th Congressional District is likely to be an expensive one and Mast is popular in his district, which Cook Political Report rates as a +5 likely Republican seat.
Reach reporter Allison Nielsen by email at allison@sunshinestatenews.com or follow her on Twitter: @AllisonNielsen.