November 14, 2017 - 11:45am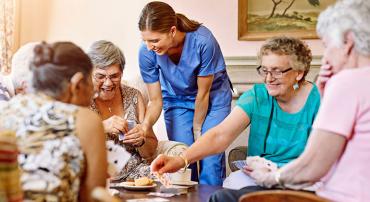 Two Florida lawmakers are teaming up on legislation requiring state officials to keep a closer eye on the quality of nursing homes and assisted living facilities after 13 senior citizens died in an overheated nursing home in September. 
The "Granny Cam" legislation, filed Tuesday in the House by Rep. Katie Edwards, D-Plantation, and in the Senate by Sen. Gary Farmer, D-Fort Lauderdale, would prioritize power restoration for certain medical facilities including nursing homes during times of crisis.
Public utility companies would also be required to inform facilities administering "essential" medical care if their services are scheduled to be interrupted at any time.
The bill would also establish an "undercover" system to watch for abuses and neglect in nursing home, a hot button issue since the Hollywood Hills story broke.
If the bill passes, the Office of the State Long-Term Care Ombudsman would keep a much closer eye on assisted living facilities, conducting unannounced quality-of-care investigations of health and long-term care facilities statewide.
The office could have employees show up for the review in uniform, or they could go undercover to investigate possible abuses and neglect at nursing homes.
Those found violating state laws could receive civil penalties anywhere from $5,000 to $10,000 per occurrence. 
Under the bill, the State Long-Term Care Ombudsman office would also contract with a private nonprofit to oversee the day-to-day operations of the long-term care program, which trains volunteers to spend time in and "improve the quality of life" of senior citizens at nursing homes.
The legislation would also tap a legal advocate for the Florida Ombudsman office who would lobby on behalf of nursing home residents suffering from abuse, neglect or exploitation.
Working in tandem with nursing homes and ALFs statewide, the State Long-Term Care Ombudsman would compile an annual report of complaints, concerns and conditions of state facilities serving the elderly. 
The Long-Term Care Ombudsman would submit that report to the United States Assistant Secretary for Aging, the Governor, the Senate President, the Speaker of the House, the Secretary of Children and Families, and the Secretary of the Agency for Health Care Administration at least 30 days before the annual legislative session begins.
Using the report, the Ombudsman would then make recommendations on how to handle complaints or concerns surrounding nursing homes and assisted living facilities statewide.
Another key component of the measure: requiring the Ombudsman to review each and every one of Florida's nursing home/ALF emergency management plans, which are required by law.
Floridians would be encouraged to report abuses or neglect in nursing homes or ALFs through a statewide, toll-free number established under the bill.
The quality of life at state nursing homes made headlines following Hurricane Irma, which caused widespread power outages throughout the state. 
One assisted living facility in Broward County, the Hollywood Hills Rehab Center, came under harsh criticism after thirteen elderly people died when the facility lost power and became overheated. 
The tragedy has prompted reactions from many state lawmakers, some of whom, like Edwards, say the time is now to protect those who need the most care. 
"We have learned that we can and must do better when it comes to patient protection," Edwards told Sunshine State News. "It was evident to me through personal experiences after Hurricane Irma which was compounded by the tragic losses of life at Hollywood Hills.
"There is an expectation that the government provides a robust regulatory framework to ensure that patients are treated with dignity and respect and that health care delivery is provided without compromise. I am still infuriated by the things that l learned after Hurricane Irma." Edwards continued.
The Florida Health Care Association was quick to criticize the new legislation, saying they believed it would throw money at attorneys rather than actually provide a solution for the problems facing Florida's senior citizens.
"For trial lawyers to aggressively seek to capitalize on genuine human tragedy is unwelcome, unseemly, and unhelpful," FHCA spokeswoman Kristen Knapp told Sunshine State News. "Our focus is on finding workable solutions that will improve the safety and well-being of the residents under our care. This includes procedures for backup generators and priority restoration of power. It does not include lining the pockets of trial lawyers at the expense of long term care residents. We will oppose this misguided legislation with the same determination with which we work to develop effective solutions to the real challenges before us."
To read the full text of the bill, click here.