At the beginning of May, Alex Diaz de la Portilla decided to get a little bit more active on social media.
If he was going to run for office again in Miami's 40th Senate District, DLP would make sure he got with the times -- and that meant using platforms like Twitter to make his message heard loud and clear.
 
DLP boasts over 10,000 followers on Twitter. His tweets consistently pull in dozens of likes and retweets, a sign which seemingly indicates the Florida Senate hopeful has his constituents and popularity on his side. 
 
There's only one problem: Diaz de la Portilla's army of loyal "followers" isn't real. 
 

In the middle of May, Diaz de la Portilla had a few thousand Twitter followers. As weeks went by, that number quickly climbed, from around 1,900 followers on May 18 to 6,500 just nine days later.
 
By the beginning of June, Diaz de la Portilla had accumulated over 10,000 followers.
 
Sunshine State News analyzed thousands of Diaz de la Portilla's followers and found many of them have no connection to politics -- or to Florida at all.
 

Many of Diaz de la Portilla's followers seem to have been plucked from obscurity, with followers coming from the Midwest all the way to Africa.
 
Some self-identify as "sparkle fairies," electronic dance music festival fans and Taylor Swift lyric pages. 
When Diaz de la Portilla first started tweeting, he was lucky to get three or four likes or retweets at most per tweet. Once his follower count went up, Diaz de la Portilla's "likes" and retweets skyrocketed too.
 
So how do you gain thousands of fake followers and fake engagement in a short period of time?
 
There are a few ways -- one is through Twitter ads, where users and business pages will set up promotional campaigns in order to gain followers with similar interests in specific categories like books, sports or politics. 
 
The other method is not quite as targeted.
 
Using a free service from an unofficial page, Twitter users can quickly signup and start accumulating followers from all over the world.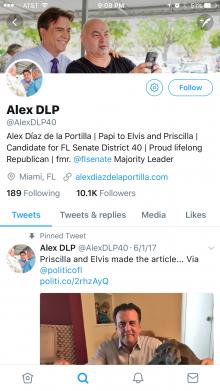 By chipping in a few extra bucks, their reach can be expanded to an even greater number of bots/fake followers who will often "follow back" even if they have absolutely nothing in common.
 
Most people signing up are all there for the same thing -- to gain as many followers as humanly possible to appear more popular than they actually are.
 
The same system can be used to gather retweets and "likes" from the same fake accounts, most of which are bots. Several of the accounts retweeting Diaz de la Portilla's tweets write out tweets in Arabic, promote pop singer Ed Sheeran and several are wannabe rappers.
 
Alex Diaz de la Portilla's own admission of guilt seems to have come straight from the horse's mouth, however. 
 
When Sunshine State News speculated Diaz de la Portilla had bought his followers, he swiftly blocked reporter Allison Nielsen from his following his page and does the same to any other account suggesting the hordes of people following him might not actually be real at all.
 
Diaz de la Portilla's latest tweet features a selfie with a Bay of Pigs veteran taken at a Miami event featuring Donald Trump on Friday.
 
"With Félix Rodríguez, a veteran of the Bay of Pigs. #CubaLibre," Diaz de la Portilla wrote.
 
Another Ed Sheeran fan page bot hit the "like button." The cycle was complete. 
---
READ MORE FROM SUNSHINE STATE NEWS
Democrats Try to Build Support in Governor's Race
Al Lawson Looks to Extend Social Security Through Raising Taxes, Increasing COLA