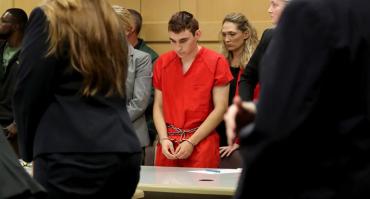 Nikolas Cruz in court
Accused school shooter Nikolas Cruz, 19 -- for the most part held in solitary confinement in a county lock-up since his arrest -- was formally charged Wednesday with 17 counts of first-degree murder. As it stands, he could be sentenced to death if convicted.
As the House debated its controversial and encompassing school safety bill,  a Fort Lauderdale grand jury was returning the indictment after it heard evidence surrounding Cruz's Valentine's Day assault on Marjory Stoneman Douglas High School in Parkland, during which 14 students and three teachers were killed and more than a dozen others were wounded.
Though his deceased parents set up a "sizable" trust fund for their two sons, Nikolas Cruz has no access to the money until his 21st birthday, officials have said, and therefore is being represented by a public defender. The public defender has said Cruz will only plead guilty if Broward County State Attorney Michael J. Satz removes the death penalty -- making Cruz's maximum possible sentence life in prison. Satz has not yet announced his decision.
James and Kimberly Snead, who took Cruz in after his mother died late last year, testified before the grand jury, Jim Lewis, the Sneads' lawyer told the media.
Said Lewis, "We'll let justice take its course ... (The Sneads) still don't know what happened, why this happened. They don't have any answers and feel very badly for everybody."
Cruz has already confessed to investigators that on Feb. 14 he took an AR-15 rifle to Douglas High School and began shooting up the classrooms.
Jail records show Cruz is cooperative, quiet and avoids eye contact. He "often sits with a blank stare," according to the records, sometimes exhibits "awkward" behavior and has a Bible to read.
Families of two 15-year-old students have sent letters to the Sheriff's Office, the School Board, the state Department of Children and Families and the FBI announcing their intention to file lawsuits. The students are Kyle Laman, 15 who faces more surgeries for injuries he suffered in his ankle and foot; and Anthony Borges, shot five times in his legs and torso, and is yet to be released from the hospital.
Reach Nancy Smith at nsmith@sunshinestatenews.com or at 228-282-2423. Twitter: @NancyLBSmith