December 20, 2017 - 6:00am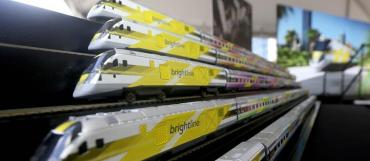 In recent years, Martin, St. Lucie and Indian River Counties have spent millions dealing with lawsuits on the environment and All Aboard Florida/Brightline (AAF).
Last month, Martin County settled a case and paid out $12 million in a lawsuit over the Lake Point rock quarry. The county was accused of violating the law regarding contracts and public records.
According to County Commissioner Ed Ciampi, the legal fees and settlements could end up costing Martin taxpayers as much as $20 million. 
"We are spending millions and millions of dollars," Ciampi said. "We have already spent millions and millions."
To cover the costs, Martin County Administrator Taryn Kryzda says the county most likely will have to take out a loan.
Environmental lawsuits aren't the only problem the county is dealing with as it continues its taxpayer funded lawsuit against Brightline. So far, Martin County has spent $3.7 million in that challenge. 
On September 26, 2017, the Martin County Commission held its final budget hearing.
County Commission Chairman Doug Smith relayed his view to the other commissioners about these lawsuits.
"I am increasingly concerned about our fiscal position, and I am not sure what to do about it at this moment," Smith said. "I don't … really, I am not very much liking the position we are in."
Kryzda and Martin County Budget Manager Jennifer Manning pointed out that the money being used to sue Brightline was being taken out of the county's reserve fund.
"Our All Aboard litigation is piling up, this litigation stuff has got to stop and we have got to stop the bleeding," said Smith.
Others attending the budget stated that money being used to sue Brightline (AAF) could be used to build much needed infrastructure in the county and fund fire stations.
Lisa Broadt from TC Palm noted the budgets take up less than 5 percent of the county's budget, but when it comes to funding government services that most impact residents, $20 million goes a long way, especially toward the county's $500 million of deferred maintenance on roads, bridges and drainage.
Martin County is not the only county continuing to pose legal challenges to the train. Indian River County has also continued to come up short in its challenges to Brightline, spending more than $2.2 million while St. Lucie County has spent more than $1 million. Brightline is not planning a stop in any of those counties. 
However, opponents of the train including Not All Aboard and Citizens Against Rail Expansion (CARE) say they will continue their efforts. 
Cocoa Mayor Henry Parrish, an outspoken proponent of the train, says these lawsuits need to stop.
"If I used taxpayer dollars to sue a private business and came up short every time, the citizens I represent would throw me out of office," Parrish said.
Parrish said when budgets are tight, taxpayer dollars should be used on simple, basic government services and not on the continued challenges to Brightline. 
Sal Nuzzo, vice president of policy for the James Madison Institute, told Sunshine State News that, when it comes to local budgets, two things can put fiscal constraint on the taxpayers: pensions and lawsuits.
But the Brightline lawsuit certainly has had an effect on All Aboard Florida and Florida East Coast Railway's plans to extend the passenger rail line from West Palm Beach to Orlando. In fact, for the last three years it has created a stall.  In November 2017 Martin County, Indian River County and CARE FL -- the public-private partnership that filed suit in early 2015 -- argued in federal court  the U.S. Department of Transportation violated the National Environmental Protection Act when it approved $1.75 billion of tax-free financing to All Aboard Florida before a final environmental review was completed. The judge validated the partnership's arguments in an important court ruling in August, and soon after, All Aboard Florida ditched its plan to use $1.75 billion in bonds and instead sought a new structure for its tax-free financing.
Brightline CEO Dave Howard has said Brightline still plans to seek a federal loan to help fund that phase of the project, but he keeps mum on details, and attorneys for the counties and CARE FL still are convinced they're getting bang for their buck with the lawsuit.
In the meantime, with a recent Federal Railroad Administration approval under their belts, Brightline plans to begin construction of its Orlando to Miami express train in the coming months. 
Ed Dean, a senior editor with SSN whose talk show can be heard on radio stations across Florida, can be reached at ed@sunshinestatenews.com.Follow him on Twitter: @eddeanradio