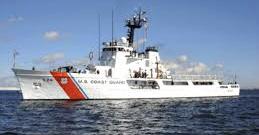 The Dauntless--a Coast Guard cutter--is now calling the Florida Panhandle home.
In June 2017, U.S. Rep. Matt Gaetz, R-Fla., announced the Dauntless and the Decisive, both 210-foot medium endurance cutters launched in the late 1960s, would be heading to Naval Air Station  Pensacola before the end of August 2018. The Decisive was being moved from  Pascagoula, Miss., while the Dauntless was based in Galveston, Texas.
Along with the Cypress, which was already based at NAS Pensacola, the two cutters will focus on search and rescue missions, stopping drugs, maritime law enforcement and immigration operations.  
Gaetz, who was elected to Congress for the first time in 2016, said the two ships, which both have 76 man crews, would help boost  the region's safety. 
"This is incredible news for Pensacola and for all Northwest Floridians," Gaetz said when the news broke that the cutters would be based at NAS Pensacola. "Not only is Northwest Florida gaining 152 new families, but the safety and security of the Emerald Coast and the Eastern Gulf of Mexico is significantly enhanced."
The Coast Guard was able to deliver both ships to Northwest Florida before the August 2018 deadline. The Decisive made NAS Pensacola its homeport earlier in the year. On Monday, Gaetz announced that the Dauntless had arrived in the Panhandle. 
"I am pleased to congratulate the U.S. Coast Guard on the delivery of Dauntless, the second 210-foot cutter, to its new homeport of Pensacola Naval Air Station," Gaetz said on Monday before pointing to a recent Coast Guard mission in the Gulf. "Just this week, the Coast Guard seized 35 kilos of cocaine in the Gulf of Mexico south of Pensacola. The continued growth of the Coast Guard's presence in Northwest Florida will help the nation's fight against illegal drugs coming into America."