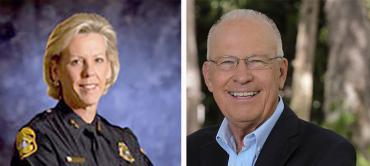 Jane Castor and David Straz
Former Tampa Police Chief Jane Castor, riding her name recognition and Mayor Bob Buckhorn's potent political machine, steamrolled six opponents Tuesday in almost winning outright the prize of succeeding her term-limited mentor.
Castor garnered 48 percent of the vote and will meet billionaire David Straz in an April 23 runoff for mayor.  Straz was a distant second with 15.47 percent of the vote.
The oddly-timed municipal race traditionally draws 22-23 percent for the primary, but Tuesday's 20.55 percent turnout was tamped down somewhat by cold, rainy weather. This means that an anemic 9.86 percent of Tampa registered voters voted for runaway leader Castor.
Straz officially spent about $2.5 million in the primary, or an astronomical $332 a vote. Tampa Bay Beat has learned, however, that the Straz campaign spent quite a bit more.
The seven weeks leading up to the runoff promise to be raucous.  Straz, the self-funding champion of an anti-Buckhorn coalition, promised he will touch on all aspects of Buckhorn's city hall tenure and Castor's controversies while the city's chief law enforcement officer.
Holding a broom aloft, Straz told his supporters and a television audience last night that he will sweep city hall clean.  He has opposed Buckhorn's penchant for red light cameras and Castor's vile "biking while black" ticketing that drew criticism from the U.S. Department of Justice.
Straz has also questioned Buckhorn's alliance with developer Jeff Vinik claiming he has undue influence at city hall.  Vinik has been attempting to complete a $3 billion downtown development that is way behind schedule.  The city, University of South Florida, and the State of Florida have all combined to resuscitate the flailing project.
The Castor-Straz one-on-one debates will contrast sharply with the four-month slog of special interest forums that led up to the primary.  With seven candidates competing in a compressed time frame, the sham forums degraded into promises and pandering more than policy and vision.
The remaining five mayoral candidates in descending order were City Councilman Harry Cohen, former County Commissioner Ed Turanchik, Attorney Dick Greco Jr., City Councilman Mike Suarez, and small business owner Topher Morrison.
Apparently the status quo suits.  The election outcome indicates most Tampa voters are satisfied residing in a large city with no national identity, an out-migration of tech-savvy, well-educated Millennials, a below-average public education system, and an eight-year stream of negative national headlines.  Hillsborough County, with tax breaks as bait, did land a Bass Pro Shop.
The City Council races also reflected the city's reluctance to change. Longtime City Councilman Charlie Miranda, who has served without distinction for decades, received 57 percent of the vote against two challengers.  One of them, John Godwin,  enumerated innovative programs for transit, the environment, housing, and a culture of inclusiveness to no avail.
Former City Councilman John Dingfelder received 49 percent of the vote against three political neophytes.  He will be in a runoff against Stephen Lytle.  City Councilmen Guido Maniscalco and Luis Viera were easily re-elected.
Public relations executive Bill Carlson, an avowed foe of Buckhorn, won an open seat outright with 51 percent against two challengers.  One of them, Lee Lowry, is a Buckhorn protegé.
In another open seat, only 2.5 points separated Jeffrey Rhodes and Orlando Gudes in a five-way race.  The seventh seat will pit Joe Citro, in a fourth try for a council seat, against Walter Smith in the April runoff.
Jim Bleyer, a former reporter at the Orlando Sentinel and Tampa Tribune, writes the Tampa Bay Beat blog.