December 2, 2017 - 6:00am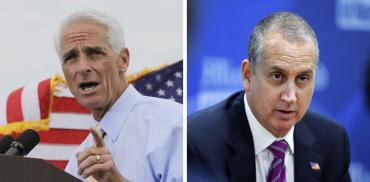 Charlie Crist and Mario Diaz Balart
A prominent national pundit is giving the Democrats a good chance of flipping the U.S. House next year--but doesn't see many opportunities for them to pick up seats in Florida. 
This week, the University of Virginia's Center for Politics released its latest "Sabato's Crystal Ball" and gave the Democrats a good chance to take control of the House from the GOP as it changed the odds of 25 different congressional seats. 
In the latest round of rankings, Kyle Kondik, the managing editor of Sabato's Crystal Ball, upgraded the chances of two Florida congressmen in the Sunshine State to win reelection next year. Kondik moved U.S. Rep. Charlie Crist's, D-Fla., race for a second term from "Leans Democratic" to "Likely Democratic." U.S. Rep. Mario Diaz-Balart, R-Fla., also saw his odds for another term improve from "Likely Republican" to "Safe Republican."
Like Crist, U.S. Rep. Josh Gottheimer, D-NJ, saw his chances for another team increase. 
"Both Crist and Gottheimer represent swingy districts, but these freshmen members are also raising boatloads of cash and benefit from the environment," Kondik wrote." Crist does not have a viable challenger at the moment; frequent candidate Steve Lonegan, a former U.S. Senate nominee, could push Gottheimer but his timing might be off in a GOP-leaning district that nonetheless seems to be inching left in the Trump era. Primarily, though, we're moving these seats because of Trump; they'd be more like Toss-ups if Clinton were president."
As Kondik noted, Crist has yet to draw a major challenger though former U.S. Rep. David Jolly. R-Fla., could take him on in a rematch of their 2016 contest. 
U.S. Rep. Don Young, R-Alaska, like Diaz-Balart was moved from "Likely Republican" to "Safe Republican."
"As we cycle more races onto the competitive board from Safe to Likely Republican, it makes some sense to cycle out a couple of Republican-held seats with long-time incumbents where there's not much going on at the moment," Kondik wrote. "Both of these seats qualify."
Alina Valdes, who Diaz-Balart beat in 2016, is angling for a rematch next year. 
While Crist and Diaz-Balart might have seen their odds to stay in Congress upgraded, the "Crystal Ball" still lists some battleground races in the Sunshine State. Democrats are favored to flip the seat held by retiring U.S. Rep. Ileana Ros-Lehtinen, R-Fla., as Kondik lists that race as "Likely Democratic." That's also the rating as U.S. Rep. Stephanie Murphy, D-Fla., looks to win a second term in Central Florida. On the GOP side, U.S. Rep. Brian Mast, R-Fla., is in a "Likely Republican" race while U.S. Rep. Carlos Curbelo's, R-Fla., district is still considered a "Toss Up."