November 30, 2016 - 12:30pm
The Network of Entrepreneurs & Business Advocates (NEBA), a 25-year-old business association based in Tallahassee that advocates for a strong and vibrant private enterprise system, heard from a panel of business advocates representing Associated Industries of Florida (AIF), Florida TaxWatch (FTW) and the National Federation of Independent Business (NFIB).
The business panel was moderated by Sunshine State News' own Nancy Smith and the panel members included AIF Senior Vice President for State and Federal Affairs Brewster Bevis, Dominic Calabro, president & CEO-for-life of FTW, and Bill Herrle who is on his second stint as executive director of Florida NFIB.
Before an audience of more than 100 small business owners, Nancy's first question was about the new leadership in Tallahassee and what does this portend for Florida's business community.
  
Bill cited the long tenure of both the Senate president and House speaker, yet he also mentioned the Senate is enjoying its largest class of new senators ever, and the youngest.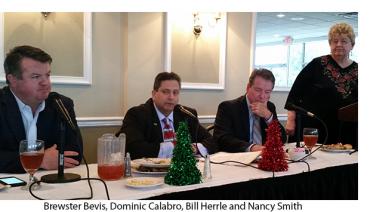 Dominic, playing off comments made by House Speaker Richard Corcoran that Florida may be looking at deficit spending if expenditures aren't reined in, said deficit spending is "immoral" and an inherent danger to any free economy, and he targeted the Rent Sales Tax as one that needs to be addressed because businesses are paying twice.
Brewster highlighted that employers are facing a 14.5 percent increase in workers compensation rates, which jumped Florida six places in a national ranking of workers comp costs, and that some of the states jumped are ones in the Southeast that Florida competes with directly.
On the topic of economic development, the refrain from the three was similar, in that economic development brings customers in the door -- but whether the money will be there in a weakening projected budget revenue will be the real question. 
 
When asked about the potential repeal of Obamacare, the advocates spoke about an idea that Gov. Rick Scott has been promoting for some time:  Medicaid block grants to the states so that each state has the flexibility, without federal overreach, on how to best expend those dollars to benefit the most people in a fiscally responsible manner.
Regarding the EPA's job-killing regulations, Brewster cited the "Waters of the U.S." rule, which is so insanely drawn that a heavy rainfall could create a scenario in which the feds would have the authority to permanently regulate this temporary problem. Bill spoke about Gov. Scott reacting quickly to a recent spill into Florida's aquifer and Dominic recalled that the regulation pendulum is swinging away from overregulation under a Trump administration.
When Nancy queried the three on Amendment 2 on medical marijuana, both Bill and Brewster said their organizations didn't take a position on the issue because business owners hadn't expressed a desire to become engaged. Dominic, however, said FTW was opposed to the amendment because it didn't belong in the Constitution and with marijuana use still against federal law, FTW doesn't support contradictory laws.
On the emerging topic of minimum Wage increases, the advocates all expressed strong opinions.  Brewster talked about how increasing the minimum wage was a job-killer, Bill called it an "artificial" wage increase and Dominic said that it should really be called a "starting" wage because it's designed for young workers with no skills and was never meant to be an amount that would sustain a family.
Another controversial question Nancy asked was whether panel members favored Senate President Joe Negron's proposal to buy land south of Lake Okeechobee to hold dirty discharges. The solution Brewster offered is that reservoirs are more needed north of Lake 'O' because it's the water going into the lake that's the problem. He also suggested the good sense of injecting water into the 240 deep wells that already exist around Florida and one idea may be to drill more of them.
Nancy saved for last, the most pressing question facing employers, the pending workers' comp rate increase. Bill indicated he had received a text just before the panel began indicating the state will appeal Judge Karen Gievers' trial court decision. The state wants the premium notices to go out on Dec. 1 as scheduled, and so an appellate court will have to make that decision quickly.
While Bill said that there is an approximate $523 million unfunded mandate in pending workers comp costs due to attorney fees, Brewster suggested that it could even be larger -- at $1 billion. Everyone agreed the recent Supreme Court decision will have an adverse impact on a system of care that was designed to be self-executing.
Brewster talked about the actual case that the Supremes heard involving an $800 injury claim, in which the attorney garnered over $35,000 in attorney fees, and that if attorney fees aren't properly addressed, the rate increase in the future will be even higher. Dominic lamented that the goal for employers is simple: get injured workers back to work as soon as possible. Yet, the top court's decision will complicate that goal.
As the panel wrapped up, it was clear Florida's business community has many important issues on the table that need to be addressed so that the state economy can continue to grow. 
Clearly, what employers need more than anything else is certainty in their overhead expenses and to get government out of the way so they can grow their business.
The one bright spot has been the relentless drive by Gov. Scott to laser-focus his efforts on creating opportunities for new start-ups, helping to grow companies already here and attracting, where possible, companies to leave tax-heavy states to come to Florida where the business environment continues to improve in a still shaky federal economy.
Florida continues to be one of the top states in job growth, tourism and new construction, and with the Legislature's help, Florida can continue to be a job leader for the country.
Barney Bishop III has been lobbying in the criminal justice and behavioral healthcare arena for over a quarter of a century and can be reached at barney@barneybishop.com