September 14, 2016 - 7:00pm
Broward College
Two of Florida's community colleges are among the ten finalists for the Aspen Prize for Community College Excellence, a national award for high achievement and performance in community colleges. 
The $1 million award is given out every two years. It aims to recognize community colleges for achievements in four specific areas: student learning, certificate and degree completion, employment and earnings for graduates and access and success for minority and low-income students. 
Home to 63,000 students, Broward College is one of the state's largest community colleges. The South Florida college has been a finalist for the Aspen Prize twice -- once in 2013 and again for the 2017 award. 
The Aspen Institute's College Excellence Program noted several standout qualities at Broward College which set it apart from many community colleges around the country.
Broward College has virtually no gap in its three-year graduation/transfer rates between all students and underrepresented minorities (at 47 and 46 percent, respectively), compared to the national average of 34 percent for minorities nationwide. 
In addition, the college boasts strong career-oriented program pathways for all students. Pathways match students with what courses they need to take to transfer to four-year programs or to high-demand jobs.
"Broward College has made incredible strides in achieving higher levels of college student success since they were last named a finalist for the 2013 Prize," Joshua Wyner, executive director of the Aspen Institute's College Excellence Program, said in a press release. "Their new educational model, called pathways, matches courses with what students need when they leave Broward College for high-demand jobs or four-year transfer. As a result, the college has made significant advances in the number of students who complete their degrees, how long it takes them to do so, and reducing excess credits."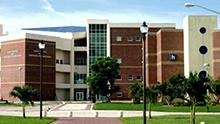 Home to 24,000 students, Indian River State College also excelled with its program pathways to help students transition to the workforce.  
"Indian River State College's efforts to get and keep students on clear program pathways aligned with labor market needs serves as a model for community colleges across the country," said Wyner. "Students have access to advisors that guide them from their first day through graduation, helping them define goals, map the most direct routes to achieving them, and continually chart their progress."
This was IRSC's second time as a finalist after being named a finalist in 2015. 
Forty-nine percent of the college's students graduate or transfer within three years, a number well above the national mark of 39 percent. Nearly three-quarters (73 percent) of students earning associate degrees earn a bachelor's degree within four years.
This fall, the Aspen Institute review the finalists in a process that includes examination of extensive data on performance and improvements in learning, graduation, workforce, and equitable outcomes for all students. Aspen will also visit each campus, then a panel of education experts will name a winner and four finalists with distinction.
The Aspen Prize was first awarded in 2011. Since then, two Florida schools -- Valencia College in Orlando and Santa Fe College in Gainesville -- have won the award. 
Reach reporter Allison Nielsen by email at allison@sunshinestatenews.com or follow her on Twitter: @AllisonNielsen