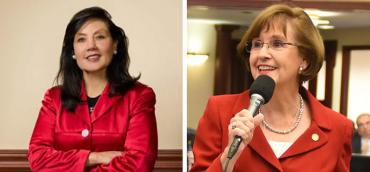 Belinda Keiser and Gayle Harrell
Belinda Keiser, the vice chancellor of Keiser University and a member of the Florida Constitution Revision Commission, is running for the state Senate seat currently held by retiring Senate President Joe Negron, R-Palm City. 
Keiser filed her paperwork on Monday to run for the seat which Negron announced last week that he was vacating. She will face state Rep. Gayle Harrell, R-Port Saint Lucie, in the Republican primary. Negron is backing Harrell to replace him. Last week, Dr. Rob Levy, a Democrat. announced that he will shift gears and run this year instead of 2020 when Negron was facing term limits. 
During her three decades with the university, Keiser has grown to have around 20,000 students in around 100 degree programs ranging from the associates level to doctoral degrees. 
Keiser is a familiar figure in Tallahassee from her work with the Florida Council of 100, the Florida Government Efficiency Task Force and Workforce Florida which she chaired, on the board of the Florida Chamber of Commerce and Gov. Rick Scott naming her to the board of Enterprise Florida and Space Florida. She also launched the  Keiser Mills Foundation to offer "unique scholarship and learning opportunities to students seeking international, entrepreneurial, leadership and civic engagement experiences as part of their college education in Florida and globally." Last year, Scott named Keiser to the  Florida Constitution Revision Commission.
In 2016, Keiser dabbled in national politics when she was named was an at-large delegate to the Republican National Convention from Florida. Like the other delegates from the Sunshine State, she backed Donald Trump who overwhelmingly won the Florida primary. 
Harrell and Keiser will tangle in SD 25 which generally backs Republicans including Scott and Trump.  Nancy Watkins, a prominent accountant who often helps out Republican campaigns, will serve as Keiser's campaign treasurer.