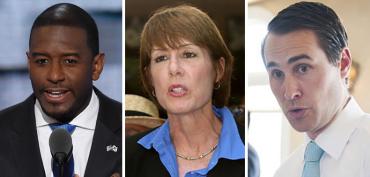 For the record, (fill in the blank) declared victory Wednesday in this year's first televised Democratic gubernatorial debate.
For people watching the event hosted by Tampa Fox affiliate WTVT or following the Twitter accounts of reporters, the rapid-fire debate showed candidates lacked awareness of how much the state spends on education and indicated that the Florida gubernatorial hopefuls rely on The New York Times for their news.
But each candidate's campaign quickly sent out releases after the event claiming success.
From Winter Park entrepreneur Chris King's campaign came the headline "King Campaign Statement on Chris's Debate Victory."
"What's clear is Chris King is uniquely qualified to deliver the fresh leadership Florida Democrats need after five straight losing gubernatorial campaigns and all Floridians deserve after eight years of Rick Scott," Chris King for Florida spokesman Avery Jaffe said in a release.
Tallahassee Mayor Andrew Gillum's campaign communications director, Geoff Burgan, proclaimed in a release that "Mayor Gillum decisively won today's Democratic debate."
"He highlighted some unusual inconsistencies from his opponents and underscored why Democrats need to nominate an authentic and viable progressive in 2018," Burgan continued.
Former Congresswoman Gwen Graham's campaign said, "Graham led throughout the debate on restoring Florida's public schools, protecting the state's environment and expanding health care."
"Showing a firm grasp of the issues facing Florida, sharing bold proposals to reverse 20 years of one-party rule, standing up to Donald Trump, Democratic candidate Gwen Graham rose above her primary opponents' attacks to dominate Florida's first gubernatorial debate," the Graham campaign release said.
And finally, former Miami Beach Mayor Philip Levine took a different tack, stating he "enjoyed the opportunity to share my vision with voters."
But that didn't stop Christian Ulvert, Levine's senior campaign adviser, from saying in a separate release: "Today, we heard from the leading Democrats for Governor and Mayor Levine showed why he is leading in the polls."
Not to be outdone in the hyperbole, the campaign of Agriculture Commissioner Adam Putnam, a Republican running for governor, issued a statement after the debate that "the ideas shared by all four Democrats in today's debate are terrifying."
NRA GUNNING FOR GOP SCHOOL BILL BACKERS
The National Rifle Association and its Florida lobbyist, Marion Hammer, are taking aim at Republican lawmakers who supported a school-safety bill that included gun-control measures.
In a letter to members of the NRA and the Unified Sportsmen of Florida, posted online Wednesday by Ammoland, Hammer focused her wrath on GOP lawmakers --- particularly Sen. Doug Broxson of the Panhandle town of Gulf Breeze --- who supported the sweeping measure (SB 7026), which was rushed into law shortly after the Feb. 14 deadly shooting at Marjory Stoneman Douglas High School in Parkland.
"We supported the school safety measures in the bill: 1.) Hardening the schools, 2.) Armed security in our schools, and 3.) Keeping guns out of the hands of the dangerous mentally ill," Hammer wrote. "We did NOT support the gratuitous gun control provisions added to the bill by REPUBLICANS. Those gun control measures are: 1.) A ban on the purchase of rifles and shotguns by adults under age 21, 2.) A 3-day waiting period on rifles and shotguns, 3.) A ban on the sale, transfer & possession of bump stocks & accessories that increase the rate of fire of a semiautomatic firearm."
The letter contends Republicans who voted for the bill --- signed into law by GOP Gov. Rick Scott --- "lacked the courage to uphold their oath of office" and that Broxson, the "linchpin" as the bill was approved in a 20-18 vote, "caved to threats and promises from Senate leadership and switched his vote and sold you out."
Hammer noted that "A" or "A+" grades of most of the Republicans in the Senate and House who voted for the bill are being re-evaluated.
"When they ask for your support, when they ask you to volunteer in their campaigns, when they ask for your donations, when they ask for your votes, think long and hard about what they had done. …," Hammer wrote.
BILINGUAL BALLOTS SOUGHT
A handful of Democratic state legislators want Secretary of State Ken Detzner, a Scott appointee, to make sure that every county has bilingual ballots on hand during the upcoming election season.
The lawmakers warned Detzner that "failure to accommodate Florida's large influx of Spanish-speaking American citizens" from Puerto Rico could violate the 1965 Voting Rights Act.
It's unknown exactly how many Puerto Ricans sought refuge in Florida following Hurricane Maria, which ravaged the island in September and left tens of thousands of island dwellers without power even now --- months after the storm.
"Florida is home to over 20 million individuals and more than 4 million of them are of Hispanic or Latino origin," Sen. Victor Torres, an Orlando Democrat who is of Puerto Rican descent, wrote to Detzner. "Additionally, with the influx of evacuees from Puerto Rico, there are an additional 300,000 American citizens who are eligible to vote in this upcoming election cycle. Providing election information and ballots in Spanish-language are essential for some qualified electors to participate in the 2018 Florida elections process."
In a response Wednesday, Detzner's office said that while it was "reviewing the letter," the issue is really a matter for county supervisors of election as "they are in the best position to determine the needs of their constituents to ensure compliance."
Leon County Supervisor of Elections Mark Earley said the request is a time and budgetary matter that hasn't been previously considered.
"If we try and just throw money, which is hard to even come by, at this without a good plan which takes time, then we are not going to guarantee success," Earley said. "We might cause more problems than we can solve."  
TWEET OF THE WEEK: "Hooray!! Many congratulations to UF History Professor Jack Davis! It's Great to be a Florida Gator." --- University of Florida President W. Kent Fuchs (@PresidentFuchs) on UF History Professor Jack Davis receiving a Pulitzer Prize on Monday for his book "The Gulf."