Tyler Hudson
In a text to a Hillsborough County voter two weeks before the November transit tax referendum,  Jeff Vinik point man Tyler Hudson virtually admitted the now exposed scam is fraudulent.
Once more Hudson, in responding to Charlotte Greenbarg's accusation that promoters of the Vinik Tax were disingenuous, did so openly, arrogantly, sophomorically, and without a shred of remorse.
He replied to Greenbarg with a meme of a toothy canine and the words, "Hehe." (See below).  The connotation is clear: "So what?  What are you gonna do about it?"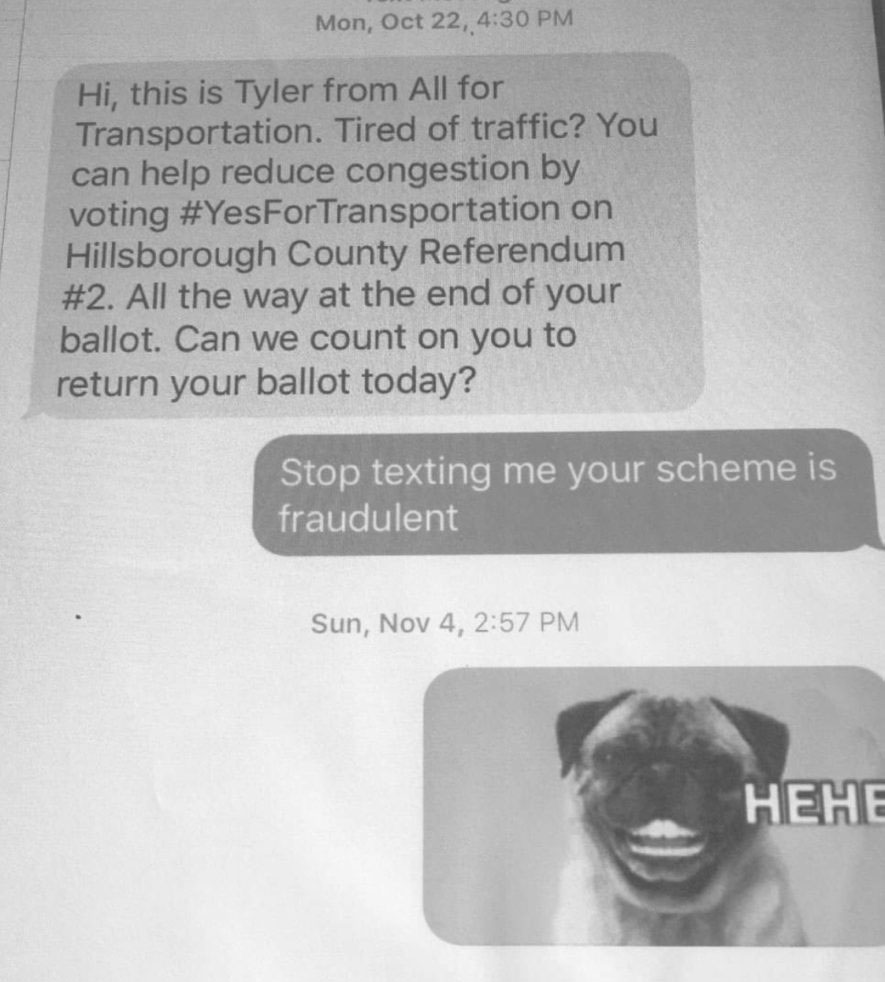 Greenbarg is a prominent conservative activist and a member of No Tax for Tracks, a group dedicated to defeating efforts to foist a multi-billion light rail system anywhere in Tampa Bay.  Replying to a promotional text from Hudson, she challenged the veracity of tax proponents and the tax "scheme" itself.
Vinik, a former hedge fund manager and owner of the NHL's Tampa Bay Lightning, poured millions promoting the 1 percent transit tax.  His $3 billion Water Street Tampa  development is drowning and the multi-billion tax windfall is seen as a Vinik bailout.
Local wags refer to the woefully behind-schedule downtown project as "Underwater Street Tampa."
The transit tax is tied up in litigation.  There are two cases: one brought by County Commissioner Stacy White; the other by a private citizen.
John Cimino of Temple Terrace filed the second complaint as a class-action lawsuit. Cimino is representing any other Hillsborough County resident who has paid the surtax as part of a purchase made in 2019. That would be just about anyone over the age of 8.  In other words, a large majority of the approximately 1.4 million people living in Hillsborough County.
Unlike White's lawsuit, Cimino is asking a judge to issue an injunction stopping the collection of the tax and to refund taxpayers.  Another prominent  issue: the referendum calls for an "Independent Oversight Committee" to parcel out the billions.  So far, all the appointees are friendly to Vinik.
The lawsuits have ramifications much bigger and broader beyond Hillsborough County.  Can anyone appropriate sales tax proceeds in Florida? 
Opponents of the ballot measure observed from the get-go that it was rife with violations of Florida statutes and ballot language problems.  None of this was reported by the debt-laden Tampa Bay Times, dependent on Vinik and his allies for financing to keep it afloat.
The Tampa Bay Business Journal and local electronic news entities were equally culpable in keeping Hillsborough voters in the dark.  Vinik spends millions in advertising not only for the Lightning, but for any event held in Amalie Arena.
Hudson, who held the title of AFT chairman, knew about these potential legal snags at least as early as July 5, four months before the referendum, according to Tom Rask of the Tampa Bay Guardian. That is the day the Guardian asked Hudson about these issues in an e-mail. The Hillsborough County Attorney's Office was copied so that the questions to AFT would be on the public record.
In that same e-mail
, AFT was asked it it had obtained "a legal opinion on its petition before it started gathering signatures." Despite repeated e-mails and calls to Hudson and his assistant, there was no response, Rask reported.
Hudson and AFT thus forged ahead,
spending $700,000
of Jeff Vinik's money and a total of $4 million on their tax hike effort, even though this substantive legal question was raised well before the measure was placed on the ballot.
Now the farcical tax measure faces two court challenges.  If the courts find the tax violates the Florida Constitution, there is no mechanism to determine who paid how much putting the funds already collected in limbo.
Greenbarg, incidentally, informed Hillsborough county commissioners of Hudson's childish but damning text.
Jim Bleyer, a former reporter at the Orlando Sentinel and Tampa Tribune, writes the Tampa Bay Beat blog.