Annette Taddeo
Poor Annette Taddeo. She may be the CD 26 candidate the Democratic Congressional Campaign Committee anointed in the primary, but she sure could use a lift right now. She's had a couple of very bad weeks.
Let's mop this mess up for her -- and for you, who must be wondering what's going on down there in Miami:
1. First Guccifer 2.0, the suspected hacker from Russian intelligence, "outed" Annette's fraudulent campaign, posting a new stolen Democratic Congressional Campaign Committee (DCCC) document on the race. It suggests she did, after all, phony up the endorsements of three Florida City officials, just as Sunshine State News reported on Feb. 5, 2016.
Under Annette's "vulnerabilities," the DCCC started off with this one: "Sunshine State News wrote that the Taddeo campaign made up several phony endorsements (NOTE: Sunshine State News is a highly unfriendly and conservative outlet, and this story did not receive pickup from any major FL-26 outlets after much pushback from this building and the Taddeo campaign.)" Have a look at the original story and the document reproduced in the attachment below.
She nearly got away with it, too. Trouble is, it wasn't just Guccifer who nailed her. The photo on this page of Florida City Vice Mayor Sharon Butler, one of the officials Taddeo falsely tried to claim, is floating around CD 26 and Twitter, getting big laughs. Yes, that's the vice mayor in the picture, merrily campaigning with Annette's primary rival Joe Garcia ... wearing a Garcia t-shirt.
2. Then, drat the luck, her hometown newspaper went and recommended Garcia. Annette got maybe two paragraphs at the end. Didn't the Herald realize she was almost the lieutenant governor of Florida?
3. After that, well, her desperation level was about to blow. The Miami Herald's "Naked Politics" describes a televised debate Sunday night when Taddeo claimed it was the Democratic Congressional Campaign Committee -- not her personally -- who commissioned a 76-page "opposition-research" bombshell on Garcia.
"Every campaign does opposition research, and if you did some, I suspect that that's in the norm," moderator Michael Putney, of WPLG-ABC 10's "This Week in South Florida," began. "Now Mr. Garcia alleges that you did a huge amount of opposition research, including things which are kind of out of bounds. Did you?"
Instead of fessing up, she set her pants on fire. And, I mean she didn't just strike the match -- she torched those babies like a bonfire after a hayride.
"No," said Annette. "I have not, actually, and um, you know, the research was actually done by the party."
"The Democratic Party?" Putney asked.
"Yes!" she said. "The Democratic Congressional Campaign Committee."
Well, there you have it. Annette told a tall one in front of a TV audience and The Miami Herald and got caught.
It was her own campaign that paid Spiros Consulting for the Garcia research. According to campaign finance reports, she paid Spiros $8,250 in January and $1,375 in March -- $9,625 in all.
Neither the DCCC nor Annette returned my phone calls Tuesday.
4. We're not done yet, unfortunately.
On Monday, with only 8 days left before primary election day and afraid of falling further behind, it was "fire in the hole" at the Annette camp. Her gang decided to tell one more whopper about Joe Garcia.
 
Women Vote!, a super PAC supporting Annette's campaign, has sent mailers that feature a "stock photo" of a student alongside an unattributed quote. 
 
In the mailer, Annette claims Garcia raised student interest rates, when in fact Garcia worked successfully with the Obama Administration to pass a new law lowering student loan rates. The word is already out.
Annette Taddeo is almost a tragic figure right now. She had the advantage going in, the wind at her back with the blessing of the DCCC. I don't get it. Three previous campaign losses and she took nothing positive away from those experiences? No lessons learned? 
Never mind. The good Republicans of the Congressional Leadership Fund are feeling sorry for her right now. Because, on top of all this, Annette has been unable to sell her house. What the Fund did is prepare a real estate ad to help her get the word out. They want to help.
If you're in the market for a little middle-class pad in South Florida, consider Annette's ...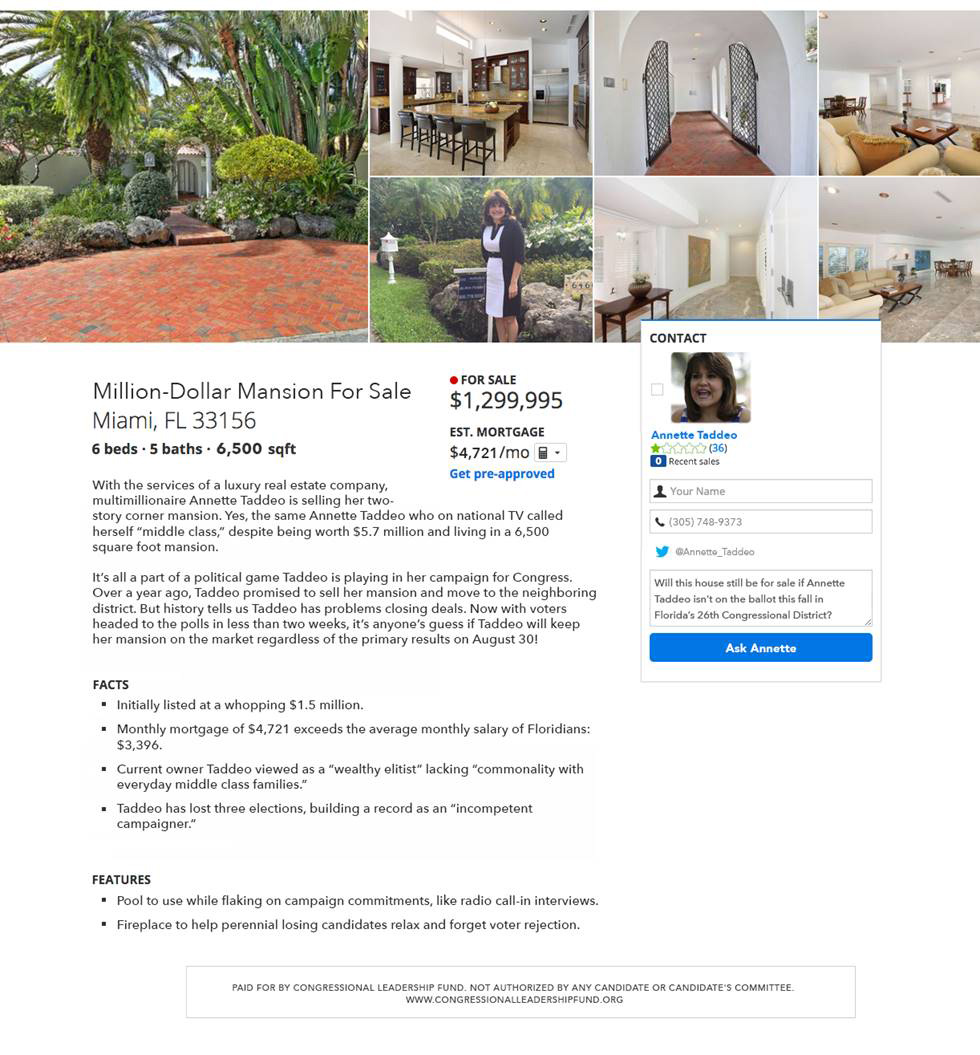 Reach Nancy Smith at nsmith@sunshinestatenews.com or at 228-282-2423. Twitter: @NancyLBSmith