December 28, 2017 - 1:00pm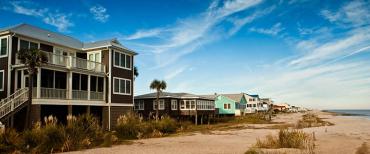 Popular homesharing website Airbnb helped Floridians earn lots of extra cash -- $450 million worth -- by offering up their homes for tourists and travelers in 2017.
Airbnb Florida welcomed approximately 2.7 million guests to the Sunshine State in 2017, a number which represents a skyrocketing 75 percent growth over the year. 
 
According to Airbnb, around 40,000 Floridians share their homes or vacation rentals through the site, which allows homeowners to list rooms or entire apartments or houses for travelers. 
 
Miami-Dade saw the highest number of guest arrivals in 2017, with 667,000 people flocking to the state's highest-populated county this year. The total host income for Miami-Dade County ended up being nearly $135 million.
 
Disney World and other theme parks were a big draw for Airbnb's second most-visited county, Osceola, which welcomed nearly 359,000 visitors this year, with the host income totaling nearly $40 million.
 
Other counties which saw six figures of visitors included Broward, Orange, Pinellas and Polk Counties. 
 
Hosts enjoy some extra jingle in their pockets by offering up their homes, with the average Florida host earning approximately $6,700 annually for their listings in 2017.
 
Florida welcomed a record-breaking 88 million tourists during the first nine months of 2017, and it appears Airbnb was partially to credit for the boom in tourism. 
 
"We are proud to contribute to Florida's record-setting tourism by opening up the state to new segments of visitors," said Jennifer Frankenstein-Harris, President of the Florida Vacation Rental Management Association (FVRMA). 
 
Airbnb is currently authorized to collect and pay the state sales tax on all bookings in Florida, in addition to collecting and paying local bed taxes in 39 counties. 
 
In 2017 alone, Airbnb secured new tax agreements with six counties: Miami-Dade, Broward, Sarasota, Polk, Hillsborough and Leon Counties. 
 
"Vacation rentals provide a tremendous impact for the local tourism industry and Florida's overall economy," said Sen. Greg Steube (R-Sarasota). "We must protect private property rights so that Florida homeowners can continue to participate in the sharing economy and provide additional options for travelers to our state."
 
Not everything has been sunshine and roses for Airbnb in all parts of the state, though.
The homesharing site and the cities of Miami and Miami Beach have been involved in a high-profile clash over residents renting out their homes, with the controversy boiling over to an all-out war in 2017.
 
This year, Airbnb was particularly critical of Miami Beach, which charges homeowners $20,000 per violation for illegally renting their homes, a sharp contrast to the average $500 fine implemented by other counties. 
 
Since raising the penalty last March, the city of Miami Beach has fined residents and rental companies like Airbnb over $4 million and counting -- and that number has only gone up in recent months. 
 
In April, a group of five Airbnb hosts sued the city of Miami over strict regulations, alleging the City of Miami is infringing on their First Amendment rights and breaking state law by imposing said regulations on vacation rentals in South Florida's largest city. 
 
Airbnb joined in the suit. 
 
"Airbnb stands together with its Miami hosts in opposing the City's unlawful efforts, and in particular stands with the brave individuals who have come forward and seek to protect their rights as Individual Plaintiffs in this action," the lawsuit read. 
 
Homesharing and vacation rentals aren't the only lodging industries which saw growth in 2017. The number of hotel rooms sold in Florida during the third quarter of 2017 grew by 4.7 percent compared to the same period in 2016.
 
 
Reach reporter Allison Nielsen by email at allison@sunshinestatenews.com or follow her on Twitter: @AllisonNielsen.
---
READ MORE FROM SUNSHINE STATE NEWS
Airbnb Expands Free Housing Program for Irma Evacuees
Airbnb Offers Free Housing to Floridians Displaced by Hurricane Irma