September 10, 2018 - 6:00am
Jeanette Nuñez and Chris King
With Jeanette Nuñez and Chris King, the gubernatorial hopefuls Ron DeSantis and Andrew Gillum chose solid, if not bold, imaginative picks for their running mates last week.  But they face monumental missionary work after bitter, divisive primaries.
Public perception, political rhetoric, and the torrent of faux punditry aside, there are bruised feelings on both sides of the spectrum. Supporters of also-rans Adam Putnam and Gwen Graham are not in a forgiving mood. Heck, Putnam and Graham themselves, despite their public statements, reportedly are still seething.
Graham, the daughter of a highly regarded former governor and senator, ran on her gender and legacy, not her accomplishments during a two-year stint in the U.S. House of Representatives. She fled from her anti-environmental voting record, laughingly attempted to pass herself off as a progressive, and approved a surrogate-fueled whisper campaign, attacking Gillum for the FBI investigation into the City of Tallahassee.
With no substance behind it, the "Gwen and the Men" strategy failed.
Gillum, in turn, exposed Graham's pro-pollution proclivities and her penchant for siding with Republicans. Despite some news reports, Graham was never considered for the post of lieutenant governor. The duo would never have meshed.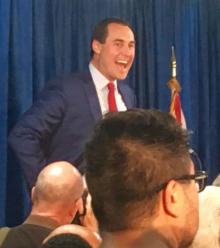 By choosing King, Gillum ensured that the progressive wing of the Florida Democratic Party owns responsibility for this election. Progressives for years have been flinging brickbats at the party establishment for backing centrists.  Except for U.S. Sen. Bill Nelson, FDP candidates have consistently failed in statewide general elections; there hasn't been a Democratic governor in 20 years.
Democratic powerbrokers split their allegiances in the primary between former Miami Beach Mayor Phil Levine and Graham. The Tallahassee mayor was virtually ignored until he surged in the last three weeks of the campaign. Even then, he garnered virtually no support from the so-called corporate wing.
One telling episode: King, at the FDP-sponsored unity rally two days after the election, lauded Gillum for winning the primary without establishment support. The remark was met with only a smattering of applause, but then again, the introduction of FDP Chairperson Terrie Rizzo produced little more than a golf clap.
A divide needs to be bridged.
On the Republican side, the electorate rejected the overwhelming early favorite to be the next governor. Putnam spent eight years as Florida commissioner of agriculture, grooming himself for Florida's top job. Prior to that, he served five terms in the U.S. House.
DeSantis' emphasis on being endorsed "by the big man himself" trumped Putnam's years of high-profile public service and polls showing he would fare far better than DeSantis against any Democratic nominee, beating them all.
Being a "proud NRA sellout" and darling of the iconic Publix supermarket chain wasn't enough to propel Putnam.
With Nuñez, DeSantis benefited himself with the general electorate. First, he selected a woman, a move Gillum felt unnecessary after a particularly nasty primary when he defeated one. Secondly, a Latina will resonate with Florida's large Hispanic community.
But the four-term Florida House member from Miami doesn't come without baggage.  She had unkind words for Donald Trump during the 2016 presidential campaign. That sounds like another intra-party complication for Republicans.
While gender, ethnicity, and legislative experience point to GOP advantages in the lieutenant governor selection, King brings two important assets to the Democratic ticket: an established statewide ground game that can be folded into the Gillum effort, and representation inside the I-4 corridor, the mother of all Florida electoral battlegrounds.
Quelling discord with vanquished opponents, their sponsors, surrogates, and voters only represents the first hurdle for Gillum and DeSantis. Looming large and bubbling in social media is the youth represented on both tickets. Florida's largest voting bloc consists of white, older voters who have the highest turnout rates in the state, especially during midterms.  They reliably give Republicans a plurality.
In this case, "older" should refer to those over 50, not just seniors. Here are the ages of the four candidates on both tickets: DeSantis, turns 40 this week; Gillum, 39; Nuñez, 46, and King, 39. Ponce de Leon was right.
With so many unsolved issues that seniors care about -- health, mass transit, polluted beaches and waterways, housing, and education (concern for children and grandchildren) -- the candidates who can sincerely articulate a platform with solutions to those problems will outperform traditional results with that key demographic.
This week launches a furious, two-month sprint to the finish line. Gillum and DeSantis are running neck-and-neck. The candidate making the fewest stumbles will be able to call 700 N. Adams St., Tallahassee, home.
Jim Bleyer, a former reporter at the Orlando Sentinel and Tampa Tribune, writes the Tampa Bay Beat blog.