November 11, 2016 - 4:00pm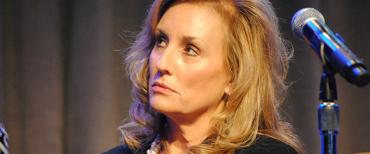 Allison Tant
After a huge loss Election Night, Florida Democratic Party Chair Allison Tant is calling it quits and will not seek reelection for another term. 
Tant sent an email Friday to statewide Democrats announcing her decision to forego another term and leave the door open for a new face to lead the party.
"It has truly been a privilege and an honor to serve as your chair and I wanted you to hear from me first that I've decided to not seek re-election in January," Tant wrote. "I will use the remainder of my term to ensure that the next chair is able to hit the ground running on Day 1 with as smooth of a transition as possible."
Tant told members not to give up hope and to continue working towards progress.
"Let's keep up the fight and do all we can to move the state and country we love forward together," she wrote.
Tant has held the title since 2013, when she won the position over Alan Clendenin. 
Expectations were high for Tant, but the last three years have been brutal and Dems have failed to make their mark. In 2014, they failed to elect former Gov. Charlie Crist in his second run for the governor's office, and this year Democrats experienced a humiliating defeat when both presidential candidate Hillary Clinton and U.S. Senate challenger Patrick Murphy lost their respective races. 
Republicans continued to hold onto the majority, both nationally and statewide, where many Senate district lines were redrawn to favor Democrats. Still, the only truly significant victors in 2016 was Charlie Crist, a party-flopped who beat incumbent U.S. Rep. David Jolly in a district favored to Democrats, and Stephanie Murphy who upended long-time incumbent John Mica in Central Florida.
Democrats are now being forced to examine what errors they made over the last few years and some say Tant stepping down is one of the only ways they will ever progress.
"That's the best decision she's made since she's been party chair and that's the first positive direction the FDP has made," said Democratic African American Women's Caucus chair Leslie Wimes. 
Wimes accused Tant of being wholly out of touch with much of the state, opting instead to stay in Tallahassee and call the shots hundreds of miles away from where the core base of Democrats is located.
"I think she's in a bubble in Tallahassee," Wimes explained. "I don't think [she] was in tune with the Democratic base, namely African Americans."
Many of the candidates the FDP has propped up in recent years have been "recovering Republicans" who have recently switched parties. Both Crist and Murphy, the FDP's golden boys of the 2016 cycle, were part of the GOP just five years ago.
That, Wimes said, was a big mistake.
"She was trying to turn Democrats into Republicans and tried to take the party into a conservative position and recycle Republicans," she said. "Then what she did was, she didn't want to compete for seats and she didn't reach out to the base."
Republican Party of Florida chairman Blaise Ingoglia told Sunshine State News it was high time for a change at the FDP.
"Coming off a historic loss must be difficult; however, the fact of the matter is the FDP needs new leadership and better organization," he said. "Although we did not agree on many things, I respected Allison Tant's tenacity and wish her the best on her future endeavors."  
Rumors have begun circulating about who will replace Tant in January. 
Clendenin, a Democratic National Committee chairman, is rumored to be pondering a second go at the party's top spot.
Crist's former running mate and failed congressional candidate Annette Taddeo has apparently been making calls among Dems to float her name for the position. Taddeo has been largely unsuccessful in virtually any capacity of her political career.
"That's the worst thing they can do," Wimes said. "One step forward does not garner five steps back."
State Sen. Dwight Bullard, D-Cutler Bay, is also among the list of possible contenders.
This is a developing story. Check back for updates.
Reach reporter Allison Nielsen by email at allison@sunshinestatenews.com or follow her on Twitter: @AllisonNielsen.