October 19, 2018 - 6:00am
Dana Young
Could House Minority Leader Janet Cruz's insults to African-American voters cut any deeper than bragging about endorsements from Tampa Mayor Bob Buckhorn, an unapologetic racial profiler, and the Tampa Bay Times which took many not-so-subtle racist jabs at Andrew Gillum during the Democratic primary?
Cruz's associations are taking a toll on her challenge to unseat Republican state Sen. Dana Young. In fact, black voters in the Hillsborough County district are gravitating toward Young, who shares common ground with that constituency on education, housing, gun safety and other issues.
Michelle Williams, a key activist in Tampa's African-American community, praised Young for being receptive and empathetic to the concerns of black families. During this important interview presided over by "Florida You Judge," it becomes evident that Young is successfully peeling off a constituency that Cruz needs in order to have any chance of victory.
Williams criticized Cruz's incessant mud slinging obfuscating the culpability of the Hillsborough County School District for its financial woes.
Meanwhile, the Cruz campaign in desperation mode, inexplicably touts support from Mayor Buckhorn and the Times. Neither are popular among African-American voters.
Buckhorn's racial profiling drew a slew of negative headlines for Tampa from coast to coast. The Seattle Times, through the Associated Press, was one of many outlets reporting Buckhorn's race relations debacle that saw blacks targeted by the Tampa Police Department. A Department of Justice investigation declared minorities were issued an inordinate number of violations. Buckhorn refused to apologize to the black community.
The police chief who moved in lockstep with Buckhorn's shameful actions was Jane Castor, Cruz's daughter-in-law. Now running to succeed Buckhorn as mayor, Castor also has yet to issue a full apology.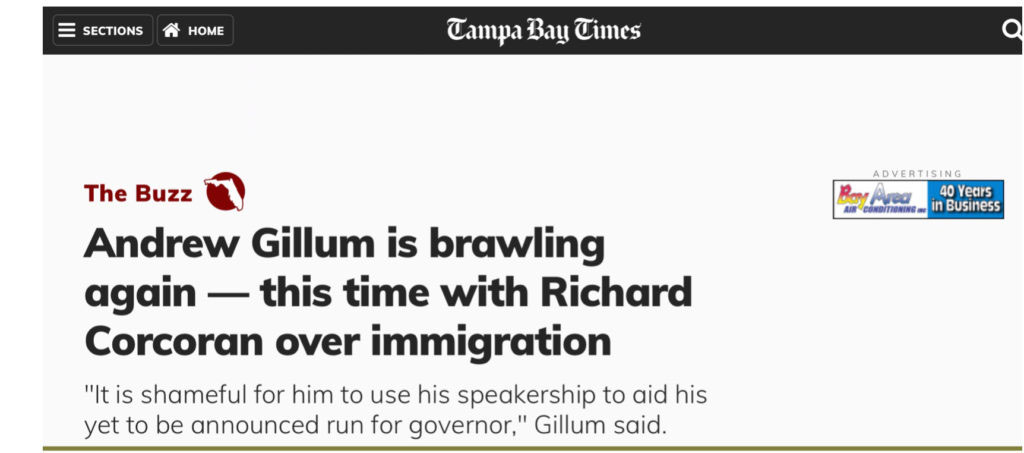 The Tampa Bay Times' coverage of the Florida gubernatorial primary deliberately painted Democratic candidate Andrew Gillum with less-than-subtle inaccurate inferences that appeal to bigots.
That was when the Times was all-in for the vacuous candidacy of Gwen Graham whom the paper expected would give it special access and a modicum of influence if she prevailed. Bob Graham, Gwen's father, sits on the board of the Poynter Foundation. The Poynter Institute is the parent organization of the the Times.
The above abhorrent Buzz headline contains a verb reserved for physical confrontation and combat. That hardly applied to the story in which Gillum called for protection of Dreamers and criticized House Speaker Richard Corcoran for demonizing immigrants.
This follows on the heels of the Times' constant depiction of Gillum as a criminal, months after an official statement that he was not a target of an FBI investigation into city of Tallahassee contracts. As far as the Times is concerned, when Gillum is not "under a cloud," he is "brawling."
Here are some recent articles where the Times used a form of the word "brawl" in its headline:
"Pacific Cruise Liner Brawl Sends Guests Fleeing to Cabins"
"Momessen Appeals Penalties after Boys Basketball Game Brawl"
"Deputies Search for Group Involved in Pinellas Strip Club Brawl that Critically Injured Woman"
"Judge Releases Tampa Man Accused of Wine Bottle Brawl on Delta Flight"
Those stories involved aggression and physical altercations. The Times editorial staff intentionally employed that verb to describe the articulation of a political position by the only African-American in the race.
Cruz knows she is in trouble with the district's African-Americans. A recent cynical mailer showed her picture alongside photos of Gillum and Attorney General aspirant Sean Shaw. No other Democrats were depicted in the mailer: no Bill Nelson, no Jeremy Ring, no Nikki Freed. But they are white, so the "message" would lose its intended effect: to give the aura of Cruz as a friend of African-Americans.
Jim Bleyer, a former reporter at the Orlando Sentinel and Tampa Tribune, writes the Tampa Bay Beat blog.