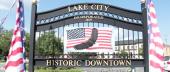 Another Florida city has succumbed to a "ransomware" attack and paid off cyber-extortionists in exchange for a decryption key to regain access to much of its paralyzed computer systems.
The Lake City City Council agreed to pay 42 Bitcoin -- about $460,000 to $480,000 --to end a cyber-attack that began June 10 and disabled the city's email, online utility payment programs and even its phone system.
Bitcoin, a cyber-currency difficult to trace, is the preferred exchange tender in what is becoming a growing menace to cities and utilities nationwide.