CNN, the 24/7 news network that actively seeks the president's impeachment, has spent the last three days denouncing Sarah Huckabee Sanders as a "despicable liar" and FOX News for hiring her as a contributor.
Brian Stetler, CNN's chief media correspondent, led the Sanders attack, explaining why the former White House press secretary's new job "deserves outrage and backlash." Here's a boiled-down version of hours of Stetler's talking-heads coverage:
Somebody who misled the public and defended a man who calls the press "the enemy" shouldn't be able to land a network job.
Sanders' consistent lies "are led from the top by a president who lies even about the weather and the time of day."
We are living through a period of official lying that's unprecedented in our lifetimes ...
All reasons, apparently, to discard Sanders and ban her from our ethically pure network news industry (well, all networks except FOX.) 
Holy hypocrite, Batman. Look again.
On Friday, without so much as an expression of shame, sanctimonious CNN announced its OWN latest hire: disgraced former acting FBI Director Andrew McCabe. Attorney General Jeff Sessions fired McCabe for lying about his leaks to the media. 
Remember McCabe? He got the boot in March 2018, less than two days before he was set to retire, after the Department of Justice's inspector general revealed that he'd repeatedly lied under oath to investigators about his role in leaking information on the bureau's Clinton Foundation investigation to the Wall Street Journal. The Inspector General referred the matter to the U.S. attorney's office for investigation and McCabe may still face criminal charges. 
He was one of the central figures in the Russia collusion "investigation" (notice, I stopped short of calling it a "hoax") and CNN was one of the media outlets that did the most to perpetuate whatever that three-year empty-handed probe was.
McCabe maintains his innocence, arguing he was misunderstood and tried to correct the record. He filed a lawsuit against the Department of Justice and FBI director in U.S. District Court in Washington earlier this month, claiming his dismissal was "politically motivated and retaliatory."
Maybe tricky times ahead for CNN, considering McCabe's lawsuit against the administration. Media reporter Yashar Ali of the Washington Post asks, "Is CNN going to disclose that fact every time he's on air? I'm assuming they're hiring him to talk about matters related to criminal justice and not the stock market."
But back to Sarah Huckabee Sanders.
I must tell you, I have great respect for this strong woman who took on what I consider one the toughest jobs in America. Remember the president's flunkies who did the job before her -- Corey Lewandowski, Anthony Scaramucci, Sebastian Gorka and Sean Spicer? When Sanders came in, she stabilized the communications disaster in the White House, all the while dealing with a touchy boss and enduring a verbal gang-banging from the most egotistical White House press corps I've seen in my lifetime.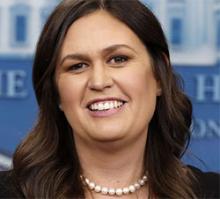 As she left the White House, Sanders expressed her desire to help secure Trump's re-election. Well, there's no better place to tout a Republican candidate than at FOX News, according to a
Pew Research Center Survey
. Note that FOX was the go-to news source for 40 percent of Trump voters during the 2016 election and has been the main news and information well for conservatives in general. In terms of influence, other networks -- Democrat-loyal all -- can't hold a candle.
Sarah Sanders will appear on all Fox News Media channels, including Fox News Channel, Fox Business Network, Fox News Digital, Fox Nation, on radio shows and podcasts. Accordingly, her first appearance will be on the Sept. 6 episode of one of her former boss' favorite shows, "Fox & Friends."
Oh, yes, and the newsletter Axios reported in June that Sanders will be writing a book. "The book will be billed as an account of her life in politics and experience inside the Trump administration, which she sees as very positive," Axios reported.
I wish her the best with all of it. Looking forward to the book.
Reach Nancy Smith at nsmith@sunshinestatenews.com or at 228-282-2423. Twitter: @NancyLBSmith