January 11, 2019 - 6:00pm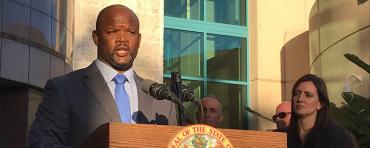 New Broward Sheriff Gregory Tony
At an afternoon press conference at the Broward County Sheriff's Office, delayed 90 minutes because of airplane mechanical difficulties, Gov. Ron DeSantis made the announcement most in Tallahassee and Broward expected: Sheriff Scott Israel has been removed from office as a direct result of the actions surrounding the shooting of 14 students and three teachers at Marjory Stoneman Douglas High School.
DeSantis was making good on a prior vow to take that action, issuing an executive order to do so.
In opening his own comments, DeSantis made it clear the intent was strictly to look forward, saying he is "not going to dance on the grave" of Israel's career. The governor announced that the immediate replacement would be former Coral Springs Police Sgt. Gregory Tony. Tony also served with the Florida Highway Patrol, and currently operates his own security firm. As the governor alluded to Tony as his pick, he said he was doing so to "return leadership, competence, and accountability to the office." 
The announcement was met with enthusiastic applause. He first gave a number of Parkland parents who had lost children in the Valentine's Day massacre the chance to speak and voice their desire to see this change. Many gave vocal support to the selection made to replace the sheriff.   
The governor arrived in Broward accompanied by Attorney General Ashley Moody, his chief of staff Shane Strum and three members of his executive staff. Additionally, DeSantis has been assisted in his decision by Andrew Pollack, a father of one of victims of the Parkland shooting, who was among those who spoke Friday.
It has been a busy week for newly installed Gov. Ron DeSantis -- and he hasn't been in office for a full week. Already he has addressed leaders of the state Legislature, named his initial pick for the Florida Supreme Court, signed an order for $2.5 billion in funding for Everglades restoration, and announced his desire to have the full South Florida Water Management District Governing Board submit their resignations.
Israel staged his own press conference, backed by a number of supporters, in which he said he shouldn't bear all the blame for the actions of select deputies. He stated boldly there would be a lawsuit and tried, once again, to attempt deflection. "This was about politics, not Parkland," he said. But the number of family members of Parkland victims supporting DeSantis' decision stand in juxtaposition of that claim.
However, there have been a number of issues of concern regarding his office, both prior to the shooting and following. In a response, five members of the BSO command staff announced their resignations ahead of the announcement on Friday, due directly to the impending suspension.
Many in Parkland and other Broward communities have awaited Friday's decision eagerly. Not only does Tony hail from Coral Springs, the municipality directly bordering Parkland -- and the city whose police were among the first to enter the school as the shooting transpired -- but he has been operating a business that specializes in the training of law enforcement for active-shooter scenarios. 
DeSantis was reportedly meeting with potential replacement candidates as early as this week. The selection made by the governor is all the more interesting because Tony is a registered Democrat, and becomes the first African American to serve as BSO sheriff. This comes in strong contrast to the contentious election between DeSantis and his opponent, Andrew Gillum, where the charge of racism was made repeatedly. 
Pollack was an enthusiastic backer of Tony, and seems to have made a convincing argument. "He's a law-and-order-type of policeman who wants to do right by the community and keep the community safe," Pollack said. 
DeSantis may very well have more moves to come. When asked by the press about the possibility of making a change in the Broward County School system -- a direct reference to Superintendent Robert Runcie -- he indicated he was not finished looking into the entire matter in Broward County.
Meanwhile, Speaker Jose Oliva, concerned that the governor has only a confiscated drug plane in which to travel the state, released the following statement:
"The Members of the House of Representatives are thankful that the governor's plane landed safely after reporting mechanical difficulties. Today's incident, combined with the sheer size of our state, starkly reminds us that we need a safe and reliable means of transportation for the chief executive. The House stands ready to work with the Governor's Office to ensure such transportation is obtained."
In 2011, in order to save money, former Gov. Rick Scott directed the state to sell the state's fleet of aircraft because he wanted to travel in his own private jet.
Brad Slager, a Fort Lauderdale freelance writer, wrote this story exclusively for Sunshine State News. He writes on politics and the entertainment industry and his stories appear in such publications as RedState and The Federalist.