3 Comments
Gillum: Planning a 2020 Presidential Run?
Submitted by
Nancy Smith
on December 12, 2018 - 10:02am
Barely a month after losing the Florida gubernatorial election, then losing again during the recount, Andrew Gillum looks as if he's trying to kick off a 2020 presidential run. Last week, he met with Washington Democrats in an effort to continue his career politician legacy. And Tuesday he gave a speech to 300 Democratic D.C. donors.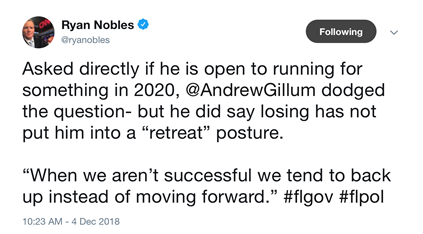 Said Taryn Fenske, Republican National Committee spokesperson, "Floridians voted against the radical plans, increased taxes and dangerous policies of Andrew Gillum. Instead of reflecting on his loss, Gillum is already trying to find a higher office to run for and reclaim his government paycheck. He might be popular with extremists, but his plans to roll back America's progress will receive the same rejection as his Florida campaign."
Comments are now closed.