October 18, 2018 - 6:00am
Six months ago no National Football League team would be caught dead involving itself in a state election.  But now look: The Tampa Bay Buccaneers and Miami Dolphins have sunk $500,000 apiece into a committee to defeat Amendment 3, the 2018 ballot measure that would give voters the power to reject any expansion of casino gambling.
The Bucs' donation came direct from the team; the Dolphins', oddly, from a sod farm at 347 Don Shula Drive in Miami Gardens -- the Fins' home turf. (See the state database showing campaign contributions for the political committee Citizens for the Truth about Amendment 3, the "vote no" group, on this page.)
Both teams turned down my pleas to comment. But I'm betting the key to the teams', and for that matter the NFL's change of heart, likely is sports betting.
The Bucs and South Florida Sod joined companies including MGM Resorts International and several operators of horse and greyhound tracks in spending money to block the initiative.
Again: If approved, Amendment 3 would require 60 percent state-wide support for any new casinos, a threshold seen by some as spelling curtains for any significant future gambling operation in Florida. 
Think about it. That threshold would protect the local hegemony of the Seminole Tribe of Florida, which operates gambling establishments under federal law, allowing Native Americans to do so ... plus entertainment giant Walt Disney Co. The Seminoles' massive Hard Rock operations are only a hop and a skip away from the Dolphins' and Bucs' stadiums. It's easy to understand why Disney, which protects its "family friendly image, and the Seminoles have given about $36 million to see the Amendment become law.
"The Seminole Tribe of Florida is trying to buy a monopoly," said Dan Adkins, who chairs Citizens for the Truth About Amendment 3. "Their arguments are all self-serving."
Of course, the arguments on both sides are twisted by the corporate interests funding their campaigns. Bloomberg News points out that Adkins himself has a day job at the Big Easy Casino in Hallandale Beach, "a recently renamed greyhound racing venue that offers gaming options it would love to expand."
The National Football League, meanwhile, once vehemently opposed to sports betting anywhere but Las Vegas, had an overnight change of heart the day in May the Supreme Court overturned a federal ban on it.
In a recent study, Nielsen Sports projected legalized, regulated sports betting would net the NFL $2.3 billion annually. Hence, the Dolphins' and Buccaneers' interest in Amendment 3. No NFL team, least of all Florida's, wants its home state to muddy waters so rich with gold.
The study, commissioned by the American Gaming Association, analyzed the projected revenue streams legal sports betting could generate for the NFL. The revenue projections, based on fan surveys, predict regulated sports betting could boost fan engagement and viewership, which would increase media rights, sponsorships, merchandise and ticket sales by 13.4 percent, or $1.75 billion.
It's a very big deal.
The NFL is already salivating over the example the Premier League, the top league for English football, has set. Fans in every stadium in England have apps on their phones, with a chance to bet on whether a goal will be scored before half-time or in the next 10 minutes, who will score it and how, even from what position on the field. NFL officials, and league teams, see their fans with the same opportunity.
Sara Slane, senior vice president of public affairs for the American Gaming Association, said the results of the Nielsen Sports survey were "staggering." She said a legal, regulated market would bring sports betting "out of the shadows ... and create huge new revenue opportunities for sports leagues -- and the NFL could be the biggest winner of all."
You can see from the Florida franchise owners' perspective, $500,000 is a very good investment.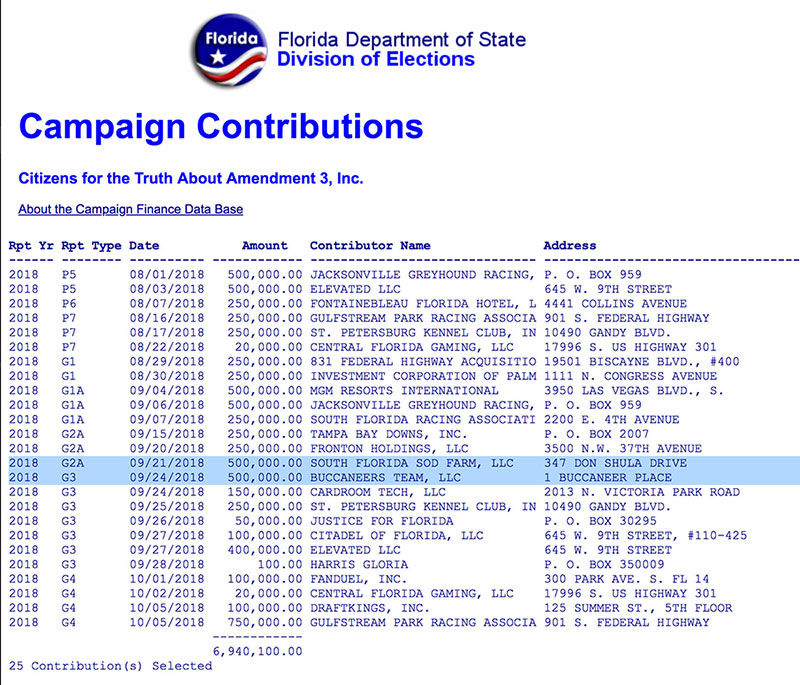 The gaming industry has long coveted access to the Florida market "due to its inherent size, its built-in appeal as a tourist destination and its large pool of retirees with time on their hands," says Bloomberg. In 1986, the Florida lottery was approved. Starting in the 1990s, parimutuel businesses -- dog and horse tracks and jai-alai frontons -- were allowed to have poker, and in the 2000s they got slot machines in some areas of Florida.
"We call it gambling creep, where the line constantly gets moved," said John Sowinski, chairman of the pro-Amendment 3 political committee Voters in Charge. "Florida is deeply invested in a family-friendly tourism brand."
Sureys in recent years, however, show Floridians have a NIMBY attitude toward gambling: They don't want it in their backyard, but they like the availability of it as another adult entertainment.
Besides New Jersey, legalized sports betting is also available in Delaware, Mississippi, Nevada and West Virginia.
Reach Nancy Smith at nsmith@sunshinestatenews.com or at 228-282-2423. Twitter: @NancyLBSmith