California, probably the only state whose cuckoo complex can rival Florida's, this week came up with the granddaddy of all OMG ballot proposals.
An initiative that would divide California into three separate states. You've probably heard about it.
It qualified Tuesday for the Nov. 6 ballot. The campaign, begun by Silicon Valley billionaire venture capitalist Tim Draper, easily found 402,468 citizens, all with valid signatures -- more than enough to put it before state voters.
The mind boggles. "Cal-3," as it's called, sure has started a new conversation in California.
The Cal-3 campaign blames "the Sacramento system of top-down control" for the state's various ills, and suggests that having state governments "closer to home" will result in better outcomes for education, infrastructure and taxes.
Mind you, this initiative to split up California isn't the first. Or the 10th. Or even the 100th. There have been at least 220 efforts to hack California up into smaller states, says California Public Radio, with at least five just since 2000.
If this latest unlikely attempt passes -- and remember, this is California, don't rule passage out in spite of the head-splitting hurdles -- the three states it would create wouldn't just involve a geographic split, but genuine political upheaval nationally.
Each of these three new states would have more than 10 million people, making each still among the 10 biggest of the resulting 52 states -- a powerful reminder of how large California has become.
Draper labels Cal-3 a "fresh start" that will deliver improvements in education, infrastructure and tax policy. But its potential to upend the national political map by spinning off new states makes it impossible to ignore the partisan implications.
Critics of the measure call the three-state solution an unworkable and costly approach to resolving California's problems.
An opposition effort called OneCalifornia recognizes the proposal would cause "political chaos" and greater inequality. The California Chamber of Commerce, meanwhile, said such a monumental change would be costly and complicated, which would only serve to create new problems.
Lt. Gov Gavin Newsom, the Democratic nominee for governor, has said he opposes the measure.
Already pundits have been hashing over how three new Left Coast states instead of one might shake out in the Electoral College.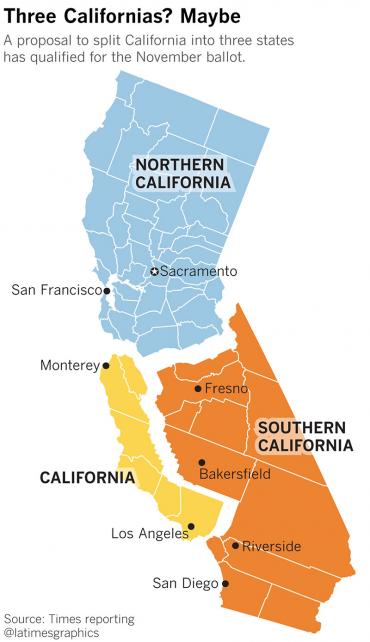 Cal-3 spokesperson Peggy Grande told FOX Business' Stuart Varney, "Right now we have two senators and we are an electoral assumption. And if you break up the state, all of a sudden we become electorally in play. It's greater representation for the people and this is what it's all about."
The Washington Times assumes the state dubbed "Southern California," which would include San Diego, Orange County and the Central Valley -- but not Los Angeles County -- would have "real red-state possibilities." The other two states almost certainly would belong to the Democrats.
Would that excite Republicans? "Sure," said Los Angeles-based political strategist Darry Sragow. "If I were a Republican, I might say, 'Well, this could be our turf.'"
The Examiner claims, for Democrats there is no upside because the state as it is is theirs. Republicans, on the other hand, have little to lose after watching their registration numbers fall in May behind those of voters with no party preference.
Critics of the proposal claim it would cost taxpayers billions of dollars to pay for the massive transactional costs of breaking up the state, "whether it be universities, parks or retirement systems," says Steven Maviglio, a Democratic political strategist representing opponents to the effort. "California government can do a better job addressing the real issues facing the state, but this measure is a massive distraction that will cause political chaos and greater inequality."
The Los Angeles Times agrees with those who believe it won't be the money or the reality of a long and exhaustive process that will doom Cal-6. It will be the personal inconvenience to voters -- the majority of water supplies exists in one region of California now. Who wants to negotiate interstate compacts to share the resource? And what if it turned contentious? College students who live in cities like Fresno may balk at being charged out-of-state tuition at UCLA. And the Times points out, a San Diego company with an office in San Francisco could find itself facing two corporate tax structures and workplace regulations that a northern state might impose differently than one in the south.
Approval gets even trickier after a successful day at the polls. No way is voter approval the end of it. Cal-6 then must get the blessing of both houses of the California Legislature -- lawmakers who, in a sense, would be asked to abandon their posts. "Draper's proposal says the initiative, acting under California's constitutional power of voters to write their own laws, would serve as legislative consent," explains the Times. It is almost certain that interpretation would end up in court.
From there, the plan would need congressional approval. And, boom, the influence of politics would take over.
Where California now has two seats in the 100-member U.S. Senate, the three states would have six seats in a 104-member chamber. "That would dilute the power of other states and increase the power of what used to be a single state if its six senators banded together on various issues."
Then there's presidential politics and, as I mentioned above, the Electoral College. Very prickly.
Illinois University College of Law Dean Vikram Amar says a shift in California's votes in the Electoral College have been awarded for a quarter-century to Democratic nominees. Suddenly they would be split between three states, one of which, based on past election results, could be won by a Republican. "In other words, it would be a tough sell to get Democrats to run the risk of supporting the proposal in Congress."
Not yet a need-to-know issue for Florida's political class, and probably it never will be. Still ... Let's see how much steam Cal-3 gains between now and November.
Reach Nancy Smith at nsmith@sunshinestatenews.com or at 228-282-2423. Twitter: @NancyLBSmith