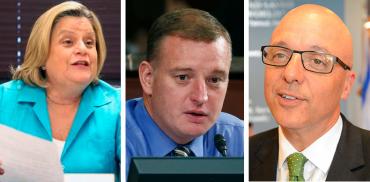 Ileana Ros-Lehtinen, Tom Rooney and Ted Deutch
From his perches as vice chairman of the U.S. House State and Foreign Operations Subcommittee and as a member of the U.S. House Permanent Select Committee on Intelligence, U.S. Rep. Tom Rooney, R-Fla, is backing a bill from two other members of the Florida delegation offering more American support for Israel. 
Rooney, who announced earlier this year he will not run for reelection, announced on Wednesday that he is cosponsoring U.S. Rep. Ileana Ros-Lehtinen's, R-Fla., and U.S. Rep. Ted Deutch's, D-Fla., "United States-Israel Security Assistance Authorization Act." Ros-Lehtinen chairs the U.S. House Middle East and North Africa Subcommittee where Deutch is the ranking Democrat. 
"The United States and Israel's longstanding partnership is grounded in our similar ideals and visions for the world," Rooney said. "As aggression against Israel worsens and security threats continue to grow and evolve, this bill ensures Israel can preserve its technological and tactical edge over its adversaries. This legislation reaffirms our strong commitment to equipping our ally Israel with the tools necessary to defend itself from existing and emerging threats."
According to Ros-Lehtinen's office, the bill "affirms the bipartisan support for the unshakeable U.S. - Israel relationship and for Israel's right to defend herself" by following the funding levels established in the Memorandum of Understanding signed by the two nations back in 2016. The proposal continues those levels for an additional five years, extending them to FY2019-23 at a cost of $3.3 billion a year. 
Last month, the U.S. House Foreign Affairs Committee passed the bill without opposition. 
Ros-Lehtinen weighed in after the committee vote last month. 
"Iran's brazen antagonism and aggression toward Israel have taken an alarming turn for the worse," Ros-Lehtinen noted. "This rogue regime is attempting to encircle the democratic Jewish state and provoke a direct confrontation. Iranian groups have joined Hezbollah, the regime's proxy and U.S. designated foreign terrorist organization, and are amassing on Israel's borders. This represents a very real and dangerous threat to our close friend and ally, and that is precisely why Ted and I authored the United States-Israel Security Assistance Authorization Act – to ensure that Israel will always have what it needs to secure and defend itself and its citizens from all threats. Our bill provides Israel with at least some peace of mind, knowing that the United States will continue to stand beside the Jewish state and that we will continue to seek ways to strengthen our bilateral relationship. I thank my colleagues for supporting this important bill and it is my hope the Senate can take action on this measure so we can get it to the president's desk as soon as possible."
"The US-Israel Security Assistance Authorization Act codifies the 2016 US-Israel Memorandum of Understanding that provides historic security assistance to our ally. It also expands cooperation on cyber, space, and joint development assistance projects," Deutch noted. "In light of Hezbollah gains in Lebanon, escalating Iranian threats in Syria, violent attempts by Hamas to breach Israel's border from Gaza -- this bill will help ensure Israel has the ability to defend itself against these growing threats."
---
READ MORE FROM SUNSHINE STATE NEWS
Charlie Crist's, Mike Johnson's Bill Protecting Israel From Drone Attacks Included in NDAA