February 14, 2018 - 7:30pm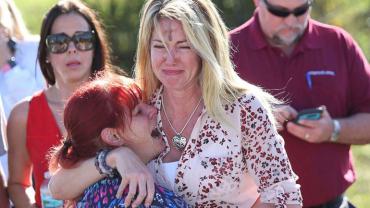 At least 17 are dead after a gunman opened fire at about 2:20 p.m. Wednesday at a high school in the affluent Broward County city of Parkland, according to law enforcement officers on the scene.
The rapid gunshots, first thought by many at Marjory Stoneman Douglas High School to be fireworks, sent students running for their lives, then resulted in a school lockdown.
At least 14 injured students were taken to hospitals, the Broward Sheriff's Office said, though their conditions were not immediately clear.   
Officers arrested 19-year-old suspect Nikolas Cruz, thought to have been a former student at the school. Cruz had slipped out of the school after the shooting by blending in with other students who were trying to escape, according to two law enforcement sources and an eyewitness.
Broward County Sheriff Scott Israel said Cruz used an AR-15 rifle in the "horrific" shooting and was equipped with "multiple magazines." He said 12 people were found dead inside the school, two just outside the building and one on Pine Island Road. Israel said two other victims died at the hospital.
Teacher Melissa Falkowski said she hid 19 of her students in a closet as shots were fired.
Students were seen sprinting out of the school with their hands up as authorities with guns drawn swarmed the area. Other students were seen lined up one by one, leaving the area in an orderly fashion. Some students were hysterical, reported Miami ABC affiliate WPLG.
One student who had been close to Cruz described the suspect as a "strange kid" who liked to kill small animals.
"He was psycho, for sure," the teen told reporters. "He was crazy because he liked to kill small things, like little animals -- frogs and other animals like that and he just had a crazy mind. He was racist and he was just crazy."
At 7 p.m., authorities were still piecing together the details of the massacre
Ironically, in 2017 Parkland was voted Florida's safest city in an analysis by the Washington-based National Council for Home Safety and Security.
The group said the south Florida city, with a population of 31,507, had only seven reported violent crimes and 186 property crimes last year.
This was the first school shooting in Florida this year. But it is the 18th nationwide in the first 45 days of 2018, according to the nonprofit gun control advocacy group, Everytown for Gun Safety.
Less than 20 minutes after the incident, Gov. Rick Scott had rearranged his Wednesday afternoon schedule to spend the rest of the day on the phone talking with authorities in Broward County: Sheriff Israel, Parkland School Superintendent Robert Runcie, Florida Department of Law Enforcement Commissioner Rick Swearingen, U.S. Department of Homeland Security Secretary Kirstjen Nielsen and President Trump.
President Trump quickly sent his condolences to the victims in the Parkland shooting. "No child should feel unsafe at school," he said.
And before 4 p.m. Florida Attorney General Pam Bondi had released a statement: "Praying for everyone involved in today's shooting at Marjory Stoneman Douglas High School," she said. "I am on the way with my victim advocates and we will be available in full force to help all victims and their families with any services they need."
Reach Nancy Smith at nsmith@sunshinestatenews.com or at 228-282-2423. Twitter: @NancyLBSmith