February 7, 2018 - 2:00pm
Ron DeSantis
Florida Congressman and Florida Republican gubernatorial hopeful Ron DeSantis is making an extra effort to let Floridians -- and his competitors -- know he has the president's support in his bid for Tallahassee this year.
DeSantis has represented Florida's 6th District in Congress since 2013 and announced he'd be running for the job last month.
Before DeSantis even jumped in the race last month he had locked down an endorsement from the highest Republican official in office: President Donald Trump.
In December, Trump tweeted his praises of DeSantis, who he had met with just a few weeks prior to making the endorsement. 
"Congressman Ron DeSantis is a brilliant young leader, Yale and then Harvard Law, who would make a GREAT Governor of Florida," Trump wrote. "He loves our Country and is a true FIGHTER!"
It was Rep. DeSantis' first big brush with gubernatorial publicity, but Trump has since been quiet on the topic of DeSantis and the Florida governor's race since.
DeSantis, however, isn't quite ready to let Florida voters forget Trump's seal of approval.
The Congressman recently began sending out fundraising mailers to Republican voters, asking for donations to his new gubernatorial campaign. Emblazoned on the envelope: a screenshot of Trump's tweet and the logo for Fox News, a leading conservative news channel.
Though his gubernatorial campaign is still in its infancy,  polls show DeSantis has gained traction with GOP voters.
A new Mason Dixon poll released Tuesday showed DeSantis closely behind Commissioner of Agriculture Adam Putnam in a hypothetical matchup, taking 23 percent while Putnam took 27 percent. 
The poll showed DeSantis doing well with his North Florida base, taking 28 percent of the vote. Putnam took 17 percent of the vote in same area of Florida. 
The Republican field only stands to get bigger -- House Speaker Richard Corcoran, R-Land O'Lakes, is widely expected to launch a campaign for the job and has been revving up his social media presence over the past few weeks. 
Democrats have wasted no time laying into DeSantis, criticizing him for supporting Trump, who is deeply unpopular among Democrats. 
"Ron DeSantis represents everything I entered public service to stop. He's focused on partisanship and President Trump instead of the job he was elected to do — fight for our public schools, protect Florida's environment, and boost our economy," Democratic gubernatorial candidate and former U.S. Rep. Gwen Graham said.
To view the mailer, click below.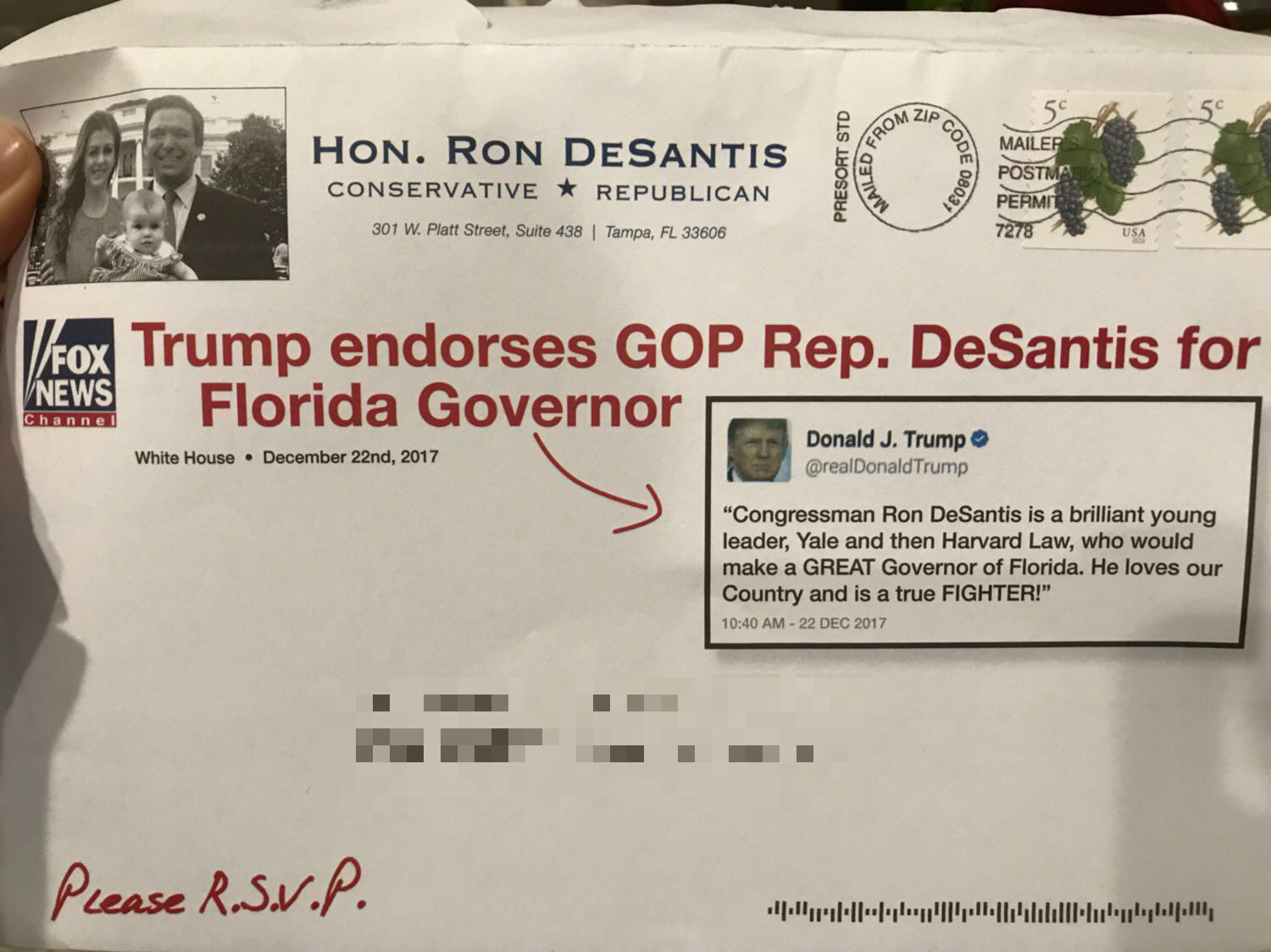 Reach reporter Allison Nielsen by email at allison@sunshinestatenews.com or follow her on Twitter: @AllisonNielsen.
---
READ MORE FROM SUNSHINE STATE NEWS