February 8, 2018 - 4:15pm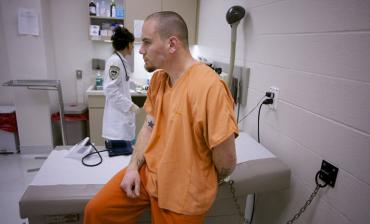 During his early days in office, Gov. Rick Scott convinced the Legislature that Florida would reduce prison costs by $1 million if it privatized services and competitively bid healthcare contracts. 
The Columbia/HCA hospital co-founder and strong advocate of privatization helped push through a budget plan in 2012 that overhauled Florida's prisons and handed over care of the state's 100,000 inmates to private companies.  
But the savings in prison healthcare never materialized. In fact, every year the cost rose. Not by just a little, either. And now look: The budget under debate as we speak is so far out-of-sight, it could be in another time zone.
What cost taxpayers $286 million two years ago, $300 million last year and $329 million this year, is going up to $368 million for 2018-2019, if state records and the figures in the governor's $87 billion budget plan are correct.
It should stick out like a sore thumb.  
Yet, nobody talks about it. Nobody questions how it happened, where it's going or what can be done about it.
There's something terribly wrong here. Local governments can make the privatization of jails work, keep to a budget and, for the most part, avoid horror stories in mental health care. Why can't the state?
Let's see what else might be afoot. 
Follow this strange series of events among health care providers at the Department of Corrections:
In 2015 Corizon Health served the healthcare needs of about 82,000 of the state's 100,000 prisoners in Regions 1, 2, and 3; Wexford Health Sources handled 18,000 in Region 4, South Florida. But late that year, Corizon notified DOC it was walking away from its five-year, $1.2 billion deal three years early. The Tennessee-based company, claimed it was losing money on the state contract.
To replace Corizon, Department of Corrections Secretary Julie Jones signed a $268 million contract with Centurion of Florida, LLC in January 2016. The contract was gifted, awarded without a bid.
In April 2017, citing a report on shortcomings in mental-health services at a Doral prison, Jones abruptly terminated Pittsburgh-based Wexford's contract months before its December expiration date, giving the provider a 180-day notice of termination. Curiously, Wexford's contract was terminated roughly a year after it filed a legal challenge over different rules the state had applied to Centurion's contract, allowing the new company "administrative fees." 
Wexford took "strong exception" to the findings in Jones' negative report, and the fact the secretary didn't allow the company to respond to the allegations before terminating the contract.
The company that today has control of privatized prison health care for the whole of the state is Centurion of Florida, LLC, a subsidiary of the nationwide managed-care giant, Centene Corp. The company is relatively new to prison health care. Centene specialized in managed care, but only in 2013 did it join with MHM Services, which had a track record in inmate mental healthcare.
A sweetheart of a deal -- with new rules and guaranteed profit, given in a monster no-bid contract.  Jones used what is known as an "invitation to negotiate," or ITN, to select new health care vendors.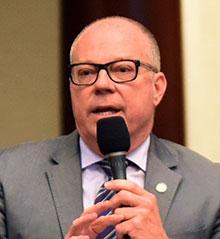 Rep. David Richardson, D-Miami Beach, a retired forensic auditor and prison reformer known around the Capitol for his propensity to poke into Department of Corrections matters, said he's always been opposed to big no-bid contracts. But he told me Wednesday the House has budgeted $351.5 million for prison healthcare this session -- $17.5 million less than the governor has. "I'm not sure how the difference came about," he said. And neither am I. Seems to me a contract, once signed, is non-negotiable, and unless a little budget sleight-of-hand is at play, Centurion's payday can only go up, not down.
Consider this:
-- Where Corizon's and Wexford's contracts together amounted to $280,252,000 per fiscal year, Centurion's all by itself comes to $316,658,000, or 13.1 percent more to serve the same inmate population.
-- Because Centurion's contract is a "cost plus management fee" model, the company is not at risk for offsite care and staffing costs. What the DOC did is build a guaranteed double-digit profit into Centurion's contract. And frankly, I'm having trouble finding this contract model or the kind of profit awarded here anywhere else in the corrections industry.
Here's the scary bottom line: When Centurion hits the contract's "not to exceed amount" -- its cap -- the DOC will have only two options:
Stop paying Centurion, at which time the company could, and likely would, fold its tent and leave Florida in the lurch -- but having already collected more than $35 million in profits from the State of Florida.
Find more money to pay Centurion over and above the contract's agreed-upon cap -- a cap that is already a lot more than DOC was paying Corizon and Wexford Health for the same scope of services.
As a Republican and an admirer of much of what Gov. Scott has accomplished during his two terms, I take no joy at questioning the motives behind his administration's relationship with Centurion/Centene. But some facts are undeniable.
The truth is, while taxpayers aren't seeing savings from his privatization plan, the governor, key lawmakers and a handful of political organizations behind them have been happily on the receiving end of Centene's political and lobbying largesse.
As a matter of fact, they received more than $1 million from Centene since late 2010 when Scott became the GOP nominee for governor.
According to state campaign finance records, the company steered $765,000 to the Republican Party of Florida, $160,000 to Scott's Let's Get to Work political committee and $175,000 to the Republican Governors Association Florida PAC, which, in turn, funneled 80 percent of its money in 2014 to Scott for reelection.
For instance, the Governors Association PAC moved $500,000 to Scott's Let's Get to Work Committee on one day in September 2014, shortly after receiving a total of $575,000 from Centene and just four other pro-Scott contributors. The PAC also paid $57,000 for "survey research" to OnMessage, Inc., the same Maryland-based firm Let's Get to Work used for opinion research.
Centene/Centurion hired a cattle pen of politically connected lobbyists, too, including former Speaker of the House Dean Cannon. While still in public office, Cannon backed the plan to privatize prison healthcare. In just the past four years, Centene has paid up to $1.2 million to lobbyists like Cannon, to persuade state lawmakers and staff, and up to $989,000 to influence officials in the Scott administration.
Aside from its prison contract, Centene got most of its government business in Florida from Scott's privatization of Medicaid. Various contracts or subcontracts to Centene's Sunshine Health subsidiary made up 14 percent of the parent company's 2015 annual revenue of $22 billion.
Additionally, records show Enterprise Florida, the state's economic development arm under Scott, approved $1.7 million in tax breaks for Centene in 2014, also during the governor's reelection bid. The public incentives were to bolster the company's Medicaid managed care operations in the Tampa, Fort Lauderdale, Jacksonville and Orlando areas.
That same year, a prosperous Centene reported increased revenues up from $10.9 billion to $16.6 billion, along with a 64 percent increase in net earnings.
By the end of this session, officials in the Scott administration will likely face renewed questioning by state lawmakers who are going to have to decide about more money for privately run prison health care.
In part, that's because Centene/Centurion's contract is up for renewal in 2018, and the Florida DOC issued an invitation for companies to negotiate a new contract.
Only Centurion submitted a response. Corizon dropped out before completing the paperwork.
As I mentioned earlier, the handling of prison healthcare came under fire two years ago, and The Miami Herald's Mary Ellen Klas reported it extensively.  At that time, there was intense questioning during a legislative meeting in which corrections officials were grilled about how the deal with Centurion could guarantee it a 13.5 percent administrative fee on top of its actual cost -- in essence, an assured profit margin.
What wasn't known or discussed at the time and what hasn't been previously reported is how the governor's office and DOC later resorted to budget hocus-pocus to cover the higher costs coming from those administrative fees. 
The Legislature had not accounted for the fees when it approved the DOC's 2016 budget. So, the corrections agency took some $22.2 million away from funds lawmakers allocated for other prison operations and programs, such as substance abuse prevention and staff to work with youthful offenders.
The budget juggling could become further grist for lawmakers when they're confronted with all kinds of prison healthcare issues. 
For one, an ongoing lawsuit is forcing DOC to ask the Legislature for another $19.3 million in funding for next year to treat 500 inmates for the Hepatitis C virus.
Virtually from the outset, the Scott administration's attempt to privatize all of prison healthcare services has been entangled in legal challenges, layoffs, cost increases and vendor disputes. It came to pass only after a lengthy legal fight by two labor unions that sought to block privatization of prison services.
Gov. Scott, however, prefers to focus on the DOC's mission and obligation in serving the people of Florida. In a response to questions I asked Wednesday, Kerri Wyland, a spokesperson in the governor's press office sent me this statement Thursday afternoon: ""Secretary Jones has taken decisive action in holding private contractors accountable, and works every day to make sure that taxpayers are protected. The State of Florida has a constitutional obligation to provide healthcare to inmates. Any assertion that the Department isn't holding contractors accountable to improve inmate care is misleading and false."
Michelle Glady, director of communications for the Florida Department of Corrections, provided this explanation and timeline:
"In December 2015, Corizon terminated its contract for healthcare services and FDC had to conduct an exempt procurement, while obtaining competitive quotes, in order to ensure there was no disruption to the constitutionally required healthcare provided to inmates. In April of 2016, FDC terminated its contract with Wexford due to a documented lack of services being provided to inmates," Glady said.
"Currently, Centurion of Florida provides health care services statewide; however, the current 'gap' contract with Centurion expires June 30, 2018."
She said, "DOC issued four competitive solicitations to procure inmate healthcare services, including medical services, mental health services, dental services, and hospital operations at the Reception and Medical Center. In order to generate more competition and achieve the best pricing for the State of Florida, the Department re-solicited medical services and dental services in June and July of 2017."
The Department anticipates awarding competitive bids in March," Glady said.
This story was updated an hour after it was posted to include post-deadline statements from the Office of the Governor and the Department of Corrections. Reach Nancy Smith at nsmith@sunshinestatenews.com or 228-282-2423.@NancyLBSmith