December 29, 2017 - 10:00am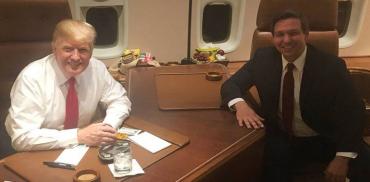 Donald Trump and Ron DeSantis
U.S. Rep. Ron DeSantis, R-Fla., looks set to run for governor and he has some big name supporters ready to back him. 
On Friday, DeSantis announced his finance leadership team even though he has not officially entered the gubernatorial race. Politico broke the news on Friday morning.
The First Coast Republican reeled in some major supporters at the state and national levels including Sheldon Adelson, Doug Deason Foster Friess, Nancy McGowan,  Rebekah Mercer, Tom Patrick, Mark Shapiro and other conservatives who have backed President Donald Trump and various free-market organizations affiliated with the Koch brothers.
"The 2018 election cycle will be important in determining the future of conservative policy reform and I'm glad that we've assembled a great group of leaders to assist with the cycle," DeSantis noted. 
At the end of last week, Trump praised DeSantis on Twitter. That was the focus on conversation when DeSantis appeared on "Fox and Friends" on Fox News on Wednesday morning. 
"Congressman, a tweet went out on Friday, I'm not sure if you saw it, it said 'Congressman Ron DeSantis is a brilliant young leader, Yale and then Harvard Law, who would make a great Governor of Florida. He loves our country and is a true fighter.' Now previous to that, you had spent a lot of time with the president," noted Pete Hegseth from Fox News. "A lot of reports that you want to run for Governor of Florida. Why don't you break some news for us here.
"I can tell you that when that tweet went out, the amount of buzzing on my phone from calls and texts, I thought the phone was malfunctioning or there was something going on," DeSantis replied. "When he tweets and he has 100 million people that are seeing that, it's a really really big deal, so I really appreciate the kind words from the president.
"He loves Florida, he's been good for Florida, and I anticipate he'll continue to do that," DeSantis added. "We'll definitely come back on your show in the new year and be happy to break some news then."
"I guess we'll have to wait then," said Lisa Boothe from Fox News. 
"I gotta think about this," said Leland Vittert from Fox News. "If you're promising to break news, it's almost as if you're breaking some." 
"Yeah, Leland's on to something here," Boothe said. 
"This is the non-denial, denial," Vittert said. "Sort of the non-acceptance, acceptance." 
"Leland, you can use your deductive reasoning skills, there's nothing wrong with that," DeSantis said. 
If he enters the race, DeSantis would not have an open shot at the Republican nomination. Florida Agriculture Commissioner Adam Putnam and Bob White, the chairman of the Republican Liberty Caucus of Florida (RLCFL), are already running. Florida House Speaker Richard Corcoran is also a possible candidate. 
---
READ MORE FROM SUNSHINE STATE NEWS
Trump Touts Possible DeSantis Bid for Governor
Putnam, Levine Continue Fundraising Streaks Over Gubernatorial Opponents in November