November 3, 2017 - 7:00pm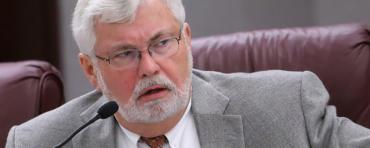 Jack Latvala
Senate Budget Chief Jack Latvala has been accused by six women of sexual harassment, the latest chapter to unfold in an explosive week in Florida politics. 
On Friday, Politico Florida published a story detailing allegations from six different women — both Democrats and Republicans — all of whom tell the same story: Latvala touched them inappropriately and made comments that made them uncomfortable. 
"He reached around the far side of my body and just started grabbing," recalled one staffer on an elevator encounter with Latvala. "His hand went around my back and grabbed me around my lower frontal abdomen and then wandered. He touched the underside of my breast on that side.
"I jumped and might have said something like 'whoa,' but before I could react any further, the elevator ride was over," she continued.
Other women said Latvala's explosive temper was a means of intimidation and that they had to "grin and bear it" when dealing with Latvala for fear of having their projects axed. 
The women asked not to be identified due to possible retribution in a small "good old boy" town where many female staffers and lobbyists do not wish to speak up because they are afraid of receiving backlash or a "bad reputation" for making allegations against powerful men. 
Earlier this week, reports surfaced of hidden surveillance which showed Sen. Latvala kissing a female lobbyist, first on the cheek, then on the lips in the parking lot of a Tallahassee Italian restaurant. 
Latvala, who is married, acknowledged the kiss but shrugged it off as normal behavior. 
"I'm sure there are a lot of pictures of me kissing people up there, especially if I have not seen them for a while," Latvala said. "Some people kiss on the lips."
An hour after the story broke, Senate President Joe Negron, R-Stuart, said his chamber would launch a full investigation into the matter, citing a "zero tolerance" policy for sexual harassment. 
"These allegations are atrocious and horrendous. As Senate President, my first priority is the safety of our staff and visitors," Negron said.  
Negron directed an immediate investigation into the allegations by Senate General Counsel Dawn Roberts, but Roberts, a friend of Latvala's, recused herself from the investigation Saturday evening.
"It became clear to me that my professional relationship with Senator Latvala through the years, most recently as Staff Director of the Senate Committee on Ethics and Elections, of which [Latvala] was the chair during President Gaetz's administration, could call into question the objectivity of the investigation," Roberts wrote in a letter to Negron.
Negron also urged anyone to come forward confidentially if they had any information regarding the allegations.
"The Senate has zero tolerance for sexual harassment, sexual assault, or misconduct of any kind and takes this issue with the utmost seriousness," Negron said. "Any allegation will be immediately and fully investigated."
The accusations against Latvala come on the heels of other stories of sexual misconduct from Sen. Jeff Clemens, who resigned last week as a result of an extramarital affair with a Tallahassee lobbyist. 
Latvala, who is running for governor and also serves as budget chair, could find himself knocked out of that position if the allegations are true. Rumored replacements for the job include Sen. Lizbeth Benacquisto, R-Fort Myers, and Anitere Flores, R-Miami. 
Latvala's gubernatorial bid is still ongoing but it is uncertain whether he will pull out of the race in light of the complaints against him and he vowed to fight back against the accusations Friday evening, calling the Politico Florida story "totally fabricated" and a "smear campaign" designed to hurt him.
"I'm going to clear my name," Latvala told the Times/Herald Friday.
This is a breaking story. Check back for updates. 
Reach reporter Allison Nielsen by email at allison@sunshinestatenews.com or follow her on Twitter: @AllisonNielsen.