September 7, 2017 - 5:30pm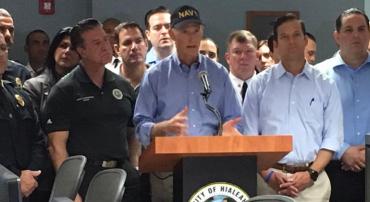 Gov. Rick Scott has been talking to Floridians on national TV networks, by my calculation, on average every three hours since Tuesday.
A state of emergency of Irma's magnitude will create such exposure for a governor. Or any leader. That's just how it is. Right now, Florida's survival is at stake.
The governor, who is running for U.S. Senate next year, has the undivided attention of millions.
How the state fares next week after Irma does her worst could figure mightily in Rick Scott's chances of beating incumbent Sen. Bill Nelson. The candidates are in a dead heat according to the last poll.
Scott is about to be judged on whether he put aside politics as usual to tick all the boxes, connect with citizens, save lives and protect property -- or did he get it horribly wrong?
Fair or not, leaders great and small around the world have little room for error these days in how they respond to outrages and catastrophe, faced as they are by a suspicious, disgruntled public that has scant faith in established politicians and is ready to heed populists offering simple and sometimes punitive solutions.
Read David K. Twigg's "The Politics of Disaster: Tracking the Impact of Hurricane Andrew."
Twigg is an adjunct instructor for Florida International University's Department of Politics and International Relations.   
He shows how elected officials' responses to natural disasters can leave an indelible mark on their political careers. 
In the midst of the 1992 primary season, he writes, Hurricane Andrew overwhelmed South Florida, requiring local, state, and federal emergency responses. The work of many politicians in the storm's immediate aftermath led to a curious "incumbency advantage" in the general election a few weeks later, raising the question of just how much the disaster provided opportunities to effectively "campaign without campaigning."
If Twigg is right, you'll see elected officials -- not just Scott and Nelson, but all of them on all levels in Florida -- adjusting their strategies and activities in Irma's wake.
But consider the opportunity for Rick Scott, who already has a significant head start unless he really blows his actual storm response. Not only will Irma give him a legitimate and necessary opportunity to enhance his constituency service (his constituents being all Floridians) and be associated with the flow of external assistance to come -- but it will allow him to achieve significant personal visibility and media coverage while appearing to be non-political or above "normal" politics.
My money is on Scott to emerge from this disaster in the catbird's seat.
If emergency services are the state's orchestra right now , Scott is their conductor. 
He honed his skills during category 1 Hurricane Hermine, which made landfall in the Panhandle on Sept. 2, 2016. He was widely applauded after successfully interceding with the city of Tallahassee to get power restored to the 145,000 homes and businesses still without it six days after the storm.
And ... if you recall, despite criticism from national party leaders, in 2012 Scott didn't go to the Republican National Convention in Tampa, saying his job was to keep an eye on Hurricane Isaac. Isaac was expected to deliver a glancing blow to Tampa -- and did.
Rick Scott has always been at his best and his most effective for Florida when he goes to work on something slightly outside the political arena, something that doesn't represent politics as usual.
Those messages about "jobs, jobs, jobs" the governor delivers so repetitiously -- annoying to so many in the media? They're gone this week, replaced by the overwhelming need of the moment. 
The new repetition became an effective drumbeat when he turned it into urging residents and tourists to take Hurricane Irma seriously ... evacuate ... the record-breaking storm is "bigger, faster and stronger" than Hurricane Andrew, which devastated the state 25 years ago.
When Irma is long gone in the rearview, my money's on Scott to cash in on that incumbent advantage Twigg talks about. After eight years of "jobs," this could become the role that most defines his governorship. Certainly he's making all the right moves in the most difficult of circumstances..
Reach Nancy Smith at nsmith@sunshinestatenews.com or at 228-282-2423. Twitter: @NancyLBSmith
---
READ MORE FROM SUNSHINE STATE NEWS
Backroom Briefing: NASA Pick Faces Rough Launch
Gus Bilirakis Helps Self-Driving Car Proposal Speed Through the House