2 Comments
Rick Santorum Headed to the Sidelines
Former U.S. Sen. Rick Santorum, R-Penn., will end his second bid for the Republican presidential nomination after a weak showing in Iowa, a state he carried only four years ago.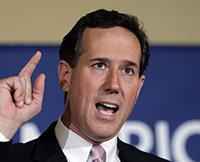 CNN is reporting that Santorum will end his campaign on Wednesday night and will back one of the current candidates. 
On Monday night, as votes were being counted in Iowa, Santorum announced that he would focus on South Carolina with plans to tour all 46 counties. But on Tuesday, his campaign postponed appearances in the Palmetto State. 
Santorum becomes the third Republican to drop out after Iowa, joining former Gov. Mike Huckabee of Arkansas and U.S. Sen. Rand Paul of Kentucky. 
Comments are now closed.