Marco Rubio Urges Obama to Oppose UN Measure Against Cuban Embargo
Submitted by
Kevin Derby
on September 29, 2015 - 8:38am
From his perch as chairman of the U.S. Senate Western Hemisphere Subcommittee, U.S. Sen. Marco Rubio, R-Fla., sent President Barack Obama a letter on Tuesday, urging him to oppose a measure in the United Nations against the embargo on Cuba. Obama is scheduled to meet Cuban strongman Raul Castro at the UN on Tuesday.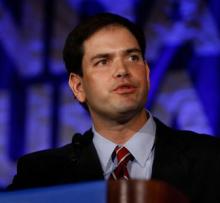 "Media reports that your administration is considering abstaining from voting against the anti-embargo resolution are of even greater concern," wrote Rubio. "Regardless of your beliefs, the U.S. embargo toward Cuba is codified in U.S. law and the reasons that it was imposed, including the Cuban government's theft of billions of dollars of private property, remain unaddressed by Havana. Any disagreements over this law, which only regulates transactions by U.S. persons, should be debated in the United States Congress -- not at the United Nations General Assembly.
 
"I intend to watch closely the position your administration takes when this resolution is debated at the United Nations and consider the administration's position as key to my advice and consent of involved State Department nominees in the coming months," Rubio added
Comments are now closed.