Marco Rubio Urges Obama Not to Go to Cuba
Submitted by
Kevin Derby
on February 19, 2016 - 10:18am
U.S. Sen. Marco Rubio, R-Fla., who sits on the Senate Foreign Affairs Committee, urged President Barack Obama not to visit Cuba next month.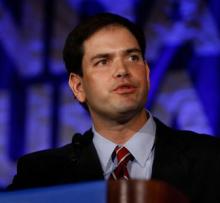 "Your determination to visit the communist state of Cuba on March 21st and 22nd, regardless of the disastrous consequences, is a mistake," Rubio said on Thursday. "I strongly urge you to reconsider visiting Cuba in the absence of the government undertaking meaningful reforms including: reforming their oppressive political system, reigning in a police state that orchestrated over 8,600 political arrests in 2015, freeing all political prisoners, resolving the billions of dollars in outstanding property claims and court judgments against the Castro regime, and returning fugitives from U.S. justice.
 
"In other words, having an American president go to Cuba simply for the sake of going there, without the United States getting anything in return, is both counterproductive and damaging to our national security interests," Rubio added. "Any time a president visits a foreign country, it speaks volumes to the host country, to the American people and to the rest of the world. If you proceed with this visit, you will further confirm what the Castro regime has learned throughout its negotiations with your administration: that you are willing to give up all the leverage the United States has in exchange for virtually nothing. 
"You will send the message to the oppressed Cuban people that you stand with their oppressors. You will send the message to the Western Hemisphere and the rest of the world, especially our enemies, that the United States can grow tired of standing up for our national security interests and principles," Rubio closed. 
Comments are now closed.